World record attempt for most Stanleys in one place
22 May 2019
Muscular Dystrophy UK will attempt to break the world record for having the most people called Stanley in one place at one time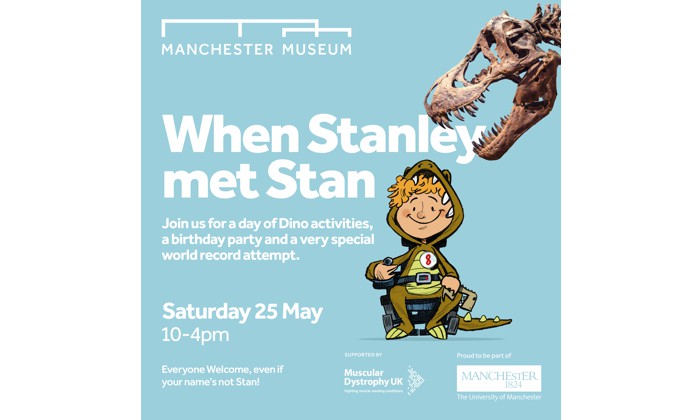 The event will be held at Manchester Museum on Saturday, 25 May with seven-year-old Stanley Newman, who has congenital muscular dystrophy as the guest of honour.
The Museum is the home of Stan the Tyrannosaurus rex; which is named after Stan Sacrison, the person who discovered it and then excavated by the Black Hills Institute in 1992. The event hopes to raise awareness of the charity in the North West and to celebrate the coming together of as many Stans and Stanleys as possible. 
With a treasure hunt, object handling, dinosaur arts and crafts, birthday cake and singalong for Stanley Newman, there will be lots to do for all ages. Manchester Museum is also encouraging people to come dressed as their favourite dinosaur!
Esme Ward, Director of Manchester Museum said: "When we read about Stanley and his love of dinosaurs, we approached Muscular Dystrophy UK as we wanted to help in some way. It felt like the perfect fit to invite Stanley to meet our T. rex who is also called Stan. The event promises to be a celebration of dinosaurs but importantly an opportunity to raise awareness about this condition and what people can do to help."
Stanley's Big Day Out starts at 10am until 3pm and the Muscular Dystrophy UK team will be on hand to answer any questions about muscle-wasting conditions or how people can get involved with the charity. 
If you are called Stanley and would like to take part in the world record attempt, register your interest in advance.