Your chance to be a part of the award-winning Sustainability Challenge
15 May 2019
We need your help to deliver the Sustainability Challenge 2019 to our 1st year undergraduate students!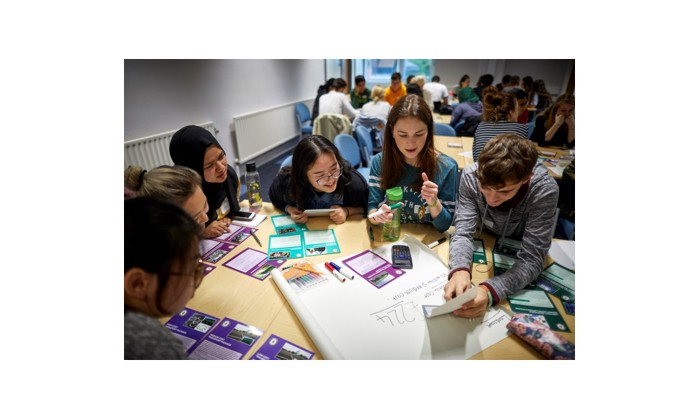 We are looking for enthusiastic and approachable members of academic and PSS staff from all parts of the University, including the library and cultural institutions, to help us run the Sustainability Challenge.
We need:
Facilitators who will work directly with groups of students taking part in the challenge
Event staff who will fulfil a number of different roles to ensure the event runs smoothly
The Sustainability Challenge will take place in the morning and afternoon on Tuesday, 17 September, 2019, across the Oxford Road campus.
You don't need any expertise relating to sustainability to volunteer, but doing so will make a big difference to our students. It will also mean that you'll achieve an action for 10,000 Actions – our environmental sustainability initiative which encourages staff to make small commitments which can ultimately make a an impact in tackling the world's greatest challenges.
The Challenge
The Challenge takes the form of a 2.5 hour simulation exercise, based on the fictitious University of Millchester's new Campus East Development. Students will work in interdisciplinary groups to plan the new campus, in the context of changes to climate policy, to address extreme weather events around the world.
Volunteers on last year's challenge said that they really enjoyed the opportunity to work with colleagues and students from across the University. It's also a great way to develop new skills.
"I would definitely recommend facilitating to anyone who enjoys a fast-paced, exciting activity that enables you to welcome the new cohort of students to Manchester." – Nicola Tomlinson, PhD student from the School of Arts, Languages and Cultures 
"It's a great all round experience for students and staff, from a development point of view it's given me more confidence".- Darren Huyton, Student Experience Manager, School of Chemical Engineering and Analytical Science
"There was no stress for us as facilitators, it was just about enjoying the moment with the students" - Parmesh Gajjar, PhD student from the School of Mathematics