The latest holiday winners are revealed!
25 Mar 2019
Four more members of staff have won a holiday thanks to the Staff Survey 2019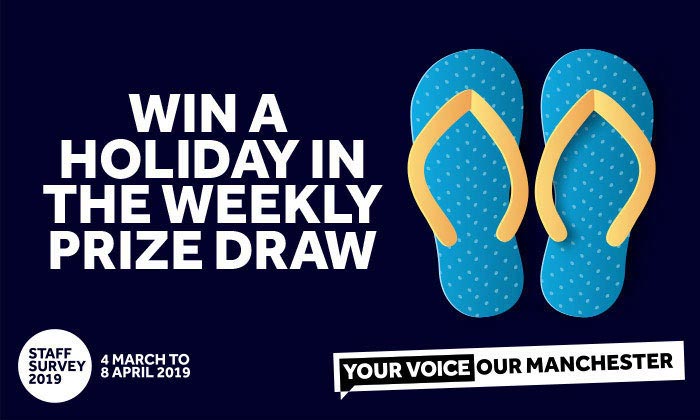 During the Staff Survey 2019 period, four people a week will be randomly selected to win £250 holiday vouchers. A long weekend city break or a big boost for a summer getaway – the winner decides how the voucher is spent! 
To be one of our next lucky winners, simply complete and submit your Staff Survey.  The sooner you complete the survey the more chances you will have of winning, as you'll be entered into the prize draw every week after you've completed it, until the survey closes on Monday, 8 April 2019.
The winners
Our second draw took place on Friday, 22 March 2019. The winners are: 
Anthony Howell from School of Medical Sciences
Alison Fountain from School of Biological Sciences
Wendy Walker  from Alliance Manchester Business School
Jenefer Metcalfe from FBMH Faculty Office
The next draws will take place on:
Friday, 29 March 2019
Friday, 5 April 2019
Tuesday, 9 April 2019 (after the survey has closed)
The survey
You will have received an email with the subject line 'The University of Manchester Staff Survey 2019 – Your invitation to participate'. If you didn't receive an email, first check your spam and junk folders. If it's not there, contact Capita on FREEPHONE 0800 587 3115.