President sees stars
11 Mar 2019
Nancy meets the Stellify team and two of our 'stellified' students – part of first cohort of distinctive Manchester students graduating this summer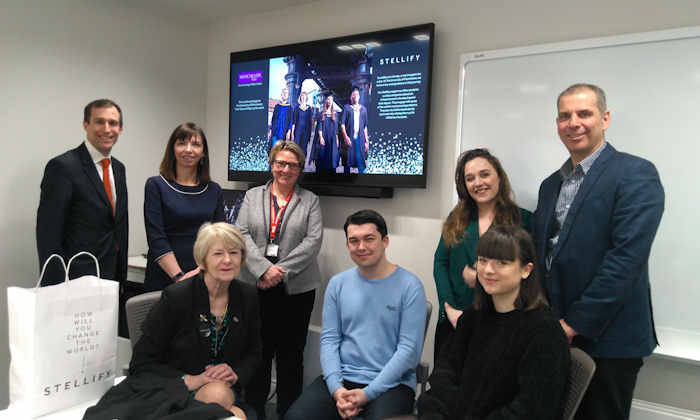 "If you leave this University with just a few letters after your name, then we've probably wasted your time."
It's blunt but President and Vice-Chancellor Nancy Rothwell is clear about what student experience should encompass here at Manchester – and the Stellify implementation group and two students who have been 'stellified', who she met on her latest visit, wholeheartedly agree.
Stellify is our package of activities for students to develop their skills and become socially responsible, innovative, resourceful graduates who are able to make a positive contribution to society and are also more employable.
It's a big year for this distinctive and powerful programme – which our competitors regularly crib from – with our first ever cohort of students to complete the Stellify programme graduating in July and being celebrated with a poem written by our Chancellor, Lemn Sissay.
Nancy adds:  "Students might say, 'I have come here to study Physics or History, why do I have to do this?' But they come here to learn to collaborate, to meet challenges and become critical thinkers, whether they are a physicist or a historian."
Phoebe Hammett, a final year BA (Hons) Management, Leadership and Leisure student and Stellify Award winner, told Nancy: "I thought it sounded really interesting and would provide me with lots of new experiences and opportunities. It encourages you to be more involved at university and actually have an impact within the university and also outside due to the volunteering part!
"For example, in second year I began my own society at the University which is still running now and hopefully will carry on when I graduate. For my volunteering step I went to Poland and taught children English, which is something I wouldn't have even considered before."
Fellow Stellify Award winner Callum Mogridge, in his final year of a BSc (Hons) in Psychology, agreed: "I did the Stellify as a means to make myself look more attractive to employers by enhancing my HEAR, but it became clear to me throughout that I would also gain a lot in terms of both personal and professional development.
"The best thing was the vast amount of opportunities available to complete the Stellify Award, but UCIL has been an important part for me in order to study outside of my degree programme."
Stellify's strong suite of activities are designed and refreshed regularly to ensure they remain relevant and have an impact on our students' understanding of the world's future challenges. They include:
The University College for Interdisciplinary Learning course 'AI: Robot Overlord, Replacement or Colleague?' Not only fascinating but directly applied to conversations being held today about future technology such as, Nancy noted, a recent talk by Chief Economist at the Bank of England Andy Haldane.
The Grand Ethical Challenge on Sustainability, part of Welcome Week, in which is open to all of our 8,000 new students work in interdisciplinary groups on a new major construction project for the hypothetical 'University of Millchester'. This includes last minute planning changes and funding shifts. In the midst of our £1 billion Campus Masterplan, Nancy wryly observes: "Just like real life challenges."
Hours of volunteering in which students make a huge difference to our local, national and global community as well as to their outlook, skills and confidence. For example, mentoring school students from deprived areas in Access All Areas, helping homeless people to master IT skills enabling them to complete online job applications and write CVs, or running therapeutic sessions for people with mental health concerns and visiting schools in Sri Lanka and Bali with the charity SLV Global.
For more information on the programme and how you can play your part in championing our distinctive Manchester graduates, visit:
Picture caption (L-R): Seated Nancy Rothwell, Callum Mogridge and Phoebe Hammett; back row Simon Merrywest, Colette Cooke, Sian Yeowell, Marianna Bebu and Paul Govey.