Hundreds run in Purple Wave taster
05 Mar 2019
A massive 790 of our staff and students took part ahead of May's 10km Great Manchester Run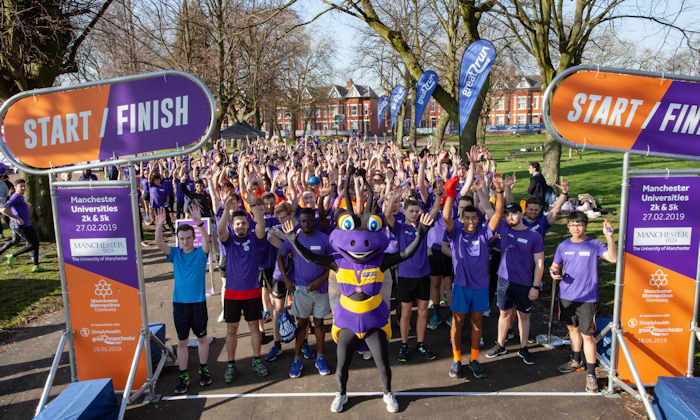 A massive 790 of our staff and students took part in a lunchtime of running ahead of May's 10km Great Manchester Run.
University of Manchester and Manchester Metropolitan University brought together a total of 860 people for two 5km and one 2km races at Platt Fields Park.
Sport Participation Manager James Marenghi said: "I am absolutely delighted with the number of people who took part which massively exceeded our initial target.
"We were blessed with glorious weather and had a fantastic turnout; a great time was had by all.
"If you enjoyed the event, then you will love the Great Manchester 10K Run, so we would encourage everyone to sign up to be part of our unique Purple Wave in May!'
Last year, 2,283 people donned the famous purple shirt to form their own Purple Wave in the race around Central Manchester.
And by adding kilometres to a live tracker, Purple Wave runners are already half way through the 30,000 km journey to Manchester's international centre in Singapore.
The journey has taken in countries including Uganda where Manchester academics are Investigating provision of healthcare  and the application of communication technologies for environmental sensor networks.
And in urban Tanzania, Manchester experts are  researching youth, poverty and inequality through the Motorbike taxi savings and employment scheme.
Many students, staff and alumni join the Purple Wave to raise money for local young people to access a world class education at Manchester.
Student runners who fundraise for the University's undergraduate scholarships which help students from more disadvantaged communities, postgraduate scholarships for students from developing countries or breakthroughs in medical research will be able to run for free. University staff and alumni can also register for free when they commit to raising £100 for one of the causes.
Vicky Ackerley, our Head of Sport, said: "Over these four years, the Great Manchester Run has profoundly shown that most people can take part in active sport and the majority will derive great benefit to their physical and mental wellbeing.
"Along with other the good causes, some of the runners will be raising cash for The University's acclaimed Undergraduate Access Scholarship scheme support's bright young people who come from the most deprived parts of Greater Manchester.
"So many of our brilliant staff, students and alumni inspire and encourage others to join them.
"It's a fantastic achievement to consistently bring hundreds of people to this great event and because of that we are currently the only organisation to have our very own starting wave.
"You don't have to be a great athlete to join the Purple Wave – just a belief in yourself and the people around you."
To register visit:
Or contact:
And tweet to @UoMSport #PurpleWave @UoMNews and share your stories.