Running the show
27 Feb 2019
Our students prepare for the Purple Wave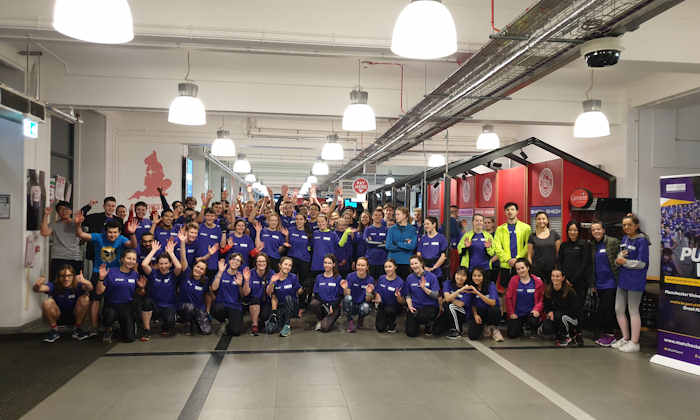 Our running-mad students have been putting themselves through their paces at a gathering to raise the profile of the Great Manchester Run.
The Student Union's Run Wild society want as many runners as possible to register for the Purple Wave in the Simply Health Great Manchester Run on 19 May.
Almost 100 of them meet up last week run through the campus in the famous purple colours
The internationally renowned 10k run will be staged for the 17th time, with the day also including a half marathon in the heart of the city.
The University will have its own start time, with a Purple Wave of runners wearing the purple technical running t-shirts they receive on registration.
Last year nearly 2,300 University staff, students and alumni took part, forming their own purple wave.
Runners who agree to fundraise for the University's acclaimed Undergraduate Access Scholarship will be able to run for free.
The scheme support's bright young people who come from the most deprived parts of Greater Manchester.
University staff and alumni can also register for free when they commit to raising £100 for the scheme.
And this year by entering the Purple Wave, runners will join in the effort to run, walk or jog 30,000km across the world and reach Manchester's international centre in Singapore.
Runners taking part in one or more of the events will be add kilometres to a live tracker that will journey through various global locations showing off some of the social responsibility work the University delivers.
President of the run wild Society Thomas Lewis said: "We think running is a brilliant thing to do. It's good for your physical and mental health and is great fun. Anyone can give it a go.
"So we'd encourage members of staff – as well as fellow students – to get involved and the join the Purple Wave!"
Register now
To register now visit the Purple Wave website or for further information contact