University sports stars land medals at BUCS Nationals
22 Feb 2019
Three days, seven sports, 124 athletes – Manchester team wins medal haul at BUCS competition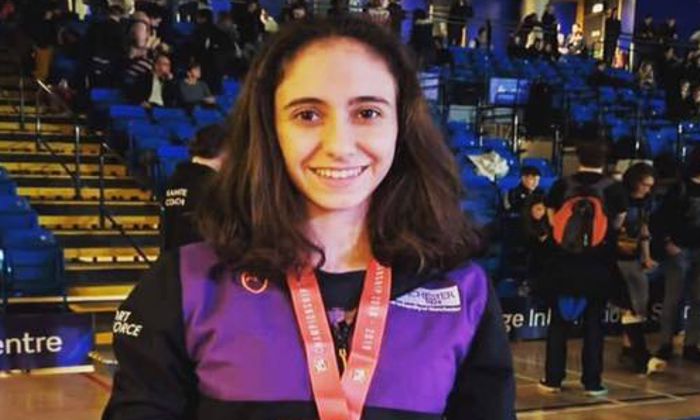 The University of Manchester Sport (UoM Sport) sent a team of 124 athletes across seven sports including seven of the University's sports scholars to a three day sporting weekend from 15th – 17th February in Sheffield. After the competition UoM Sport came away with 4 Gold, 4 Silver and 5 Bronze medals achieving 13 medals in total, their best total haul to date.  Through their results both UoM Sport karate scholar Sotia Zenios  and the men's climbing team made up of Peter Dawson, Luc Marsden and Emil Piesold have qualified for the European University games this summer, with karate taking place in Zagreb, Croatia and climbing in Belgrade, Serbia. You can watch the highlights. 
BUCS Karate silver medallist Sotia Zenios was recently awarded a UoM Sport scholarship in January and had this to say on her achievement: "I am excited for achieving the silver medal at the BUCS National Karate Championships after coming back from injury. I am confident that the holistic support I have been receiving from the UoM Sport will aid me in doing even better in the future!"
Commenting on the achievements Sid Fletcher, the University's Performance Sport and Business Development Manager, said: "We are incredibly proud of the achievements of our students this weekend, the record haul of medals demonstrates the commitment and work ethic of our Athletic Union Clubs and Sport Scholarship students.  The BUCS Nationals has long been part of an established pathway to the future success for our students with Naomi Ogbeta going on to win the British National Senior Triple Jump title shortly after BUCS success last year."   
British Universities & Colleges Sport (BUCS) is the national governing body for Higher Education (HE) sport in the UK. BUCS provides sporting competitions for Universities across the country delivering over 50 sports including everything from archery to ultimate to 170 HE institutions. This past weekend BUCS hosted "BUCS Nationals" which brings together individual Championships for seven sports which take place across different venues across state of the art venues in Sheffield. Over 6000 students took part in the event with over 500 officials and volunteers making the sport happen on and off the field of play. BUCS Nationals also marked an occasion to celebrate 100 years of university sport in the UK. In January of 1919, the Inter-varsity Board of England and Wales was formed with the first official inter-university sporting competition – an athletics championship – held in May of 1919 at our very own Fallowfield campus. The founding universities include: Aberystwyth, Bangor, Birmingham, Bristol, Cardiff, Leeds, Liverpool, Manchester, Nottingham and Sheffield. Throughout the year as a founder member Manchester will be raising the profile of University sport including creating a hall of fame and attending events.
The full run down of medals won by UoM Sport over BUCS Nationals is as follows:
Indoor Athletics
Joe Gray (Scholar) – Para-Long Jump SILVER – Faculty of Humanities – Economics (2nd year) 
Swimming (Long Course)
Grace Harvey (Scholar)– 50m Para Freestyle GOLD – Faculty of Biology, Medicine and health – Biology (2nd year)
Grace Harvey (Scholar)– 400m Para Freestyle GOLD - Faculty of Biology, Medicine and health – Biology (2nd year) 
Rosie Bancroft (Scholar)– 100m Para Freestyle GOLD - Faculty of Biology, Medicine and health – Zoology (Final Year)
Karate
Andrew Hu – Men's Novice Kata GOLD – Faculty of Science and Engineering – Computer Science
James Burke – Men's Novice Kumite 80kg BRONZE
Anisia Spyrolari – Women's Novice Kumite 63kg BRONZE
William Oates – Men's Novice Kumite +80kg BRONZE – Faculty of Science and Engineering – Chemical Engineering 
Sotia Zeniou (Scholar) – Women's Senior Kumite 55kg SILVER - Faculty of Biology, Medicine and health – Medicine (1st Year)
University of Manchester Mixed Team Kata – BRONZE
Judo
Iris Zechner – Women's 57kg BRONZE
Saul Bunyan – Men's 73kg SILVER (1st Year)
Judith Heimbach – Women's 52kg SILVER
Climbing
Finished 4th in the men's team category