Out of office – and on a blender bike…
18 Feb 2019
School of Chemical Engineering and Analytical Science staff enjoy a day of wellbeing activities – action from Staff Survey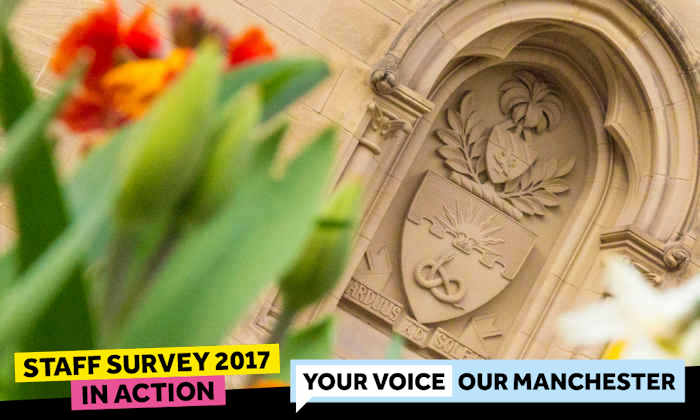 Staff Survey 2019 – which gives you the chance to feedback about your experience of working here – launches on Monday, 4 March.
Our last Staff Survey, in 2017, resulted in actions being taken right across campus to improve your working life. These include a day of wellbeing activities for staff in the School of Chemical Engineering and Analytical Science (CEAS).
Following improvements in staff wellbeing between 2015 and 2017, CEAS recognised the importance in improving the wellbeing of staff so a day of free activities for staff and research students was provided.
These included yoga, table tennis, pilates, boxercise, Zumba, table football, meditation, stress management sessions, massages, eyebrow threading and tinting, henna tattooing, manicures and art classes.
Staff were also treated to healthy snacks throughout the day and could even work up a sweat making smoothies using a special smoothie blender bike.
To ensure that members of the School fully embraced the opportunity, they were encouraged to put their out of office reply on for the day.
Reflecting on the day, members of staff agreed that it gave them the opportunity to switch off whilst having fun and mingling with people that they wouldn't normally have interacted with.  They also fed back that they would love to see more activities of this kind moving forward within the School and throughout the University.
Staff Survey 2019
Staff Survey 2019 launches on Monday, 4 March and runs until Monday, 8 April.
You will receive an email or, if you don't work at a computer, be given the chance to fill in the Staff Survey form. It only takes around 15 minutes to complete, and you can be sure that all the information you supply will be anonymous and treated in strictest confidence. This is because the Staff Survey 2019 is being administered on the University's behalf by an external company, Capita.
The survey results will be published in June.