Dr David Mills selected for the Periodic Table of Younger Chemists
14 Feb 2019
Dr David Mills, School of Chemistry, has been selected to appear in the prestigious Periodic Table of Younger Chemists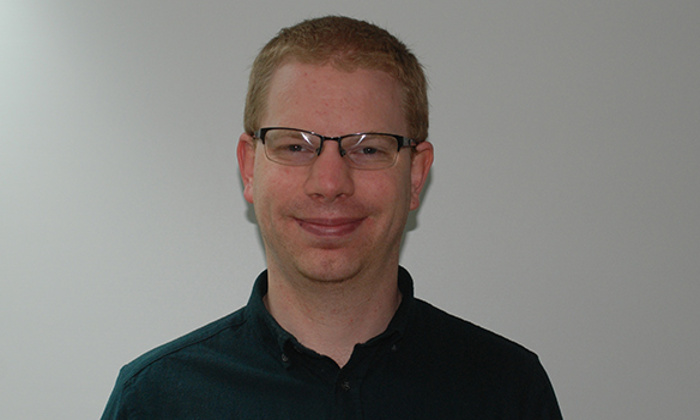 Dr David Mills, a Senior Lecturer in the School of Chemistry, will represent thulium in the prestigious Periodic Table of Younger Chemists alongside other young chemists from across the world.
The news is particularly exciting because UNESCO has declared 2019 the IYPT - or International Year of the Periodic Table of Chemical Elements - and the year also marks the 150th anniversary of the discovery of the Periodic System in 1869 by Dmitri Mendeleev.
Dr Mills' award was announced at the International Symposium on Setting the Table: Women and the Periodic Table of Elements in Murcia, Spain on 11 February. The Periodic Table of Younger Chemists is a celebration of the IYPT and the International Union of Pure and Applied Chemistry (IUPAC), which is the guardian of the Periodic Table and responsible for naming new elements and setting criteria. IUPAC is also celebrating its centenary this year.
Beginning in July 2018 and ending in July 2019 at the World Chemistry Congress and IUPAC General Assembly, the Periodic Table of Younger Chemists will honour a diverse group of 118 outstanding chemists from around the world. Those chosen will form a Periodic Table to highlight and celebrate the diversity, dedication and creativity of today's younger chemists.
Around eight elements are being revealed each month, with Dr Mills named the representative of thulium in February. Beginning his independent career at The University of Manchester in 2012, Dr Mills has published more than 70 journal articles, reviews and book chapters, and has been awarded more than £2.8 million in grant income as principal investigator.
On the announcement, Dr Mills said "I'm truly humbled to represent thulium on the Periodic Table of Younger Chemists, in celebration of the International Year of the Periodic Table and the IUPAC Centenary in 2019. I'm also inspired by the stories of scientists from around the world on this Periodic Table, which highlights how chemistry is a truly global subject.