Students help to win legal case for redundant workers
08 Feb 2019
Students' learning experience enhanced through volunteering at advice centre.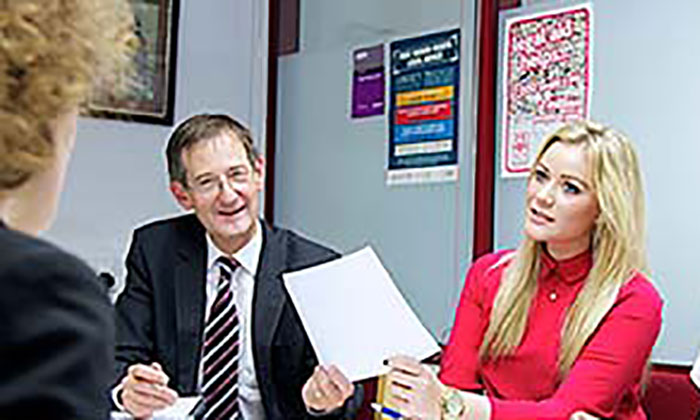 Last year a group of ten undergraduate Law students gained valuable real-world experience when they helped a group of dismissed employees win an employment case.
When a Lancashire-based insurance business collapsed suddenly last summer, its employees were faced with the prospect of being unable to pursue their employer for outstanding payments, as well as for compensation for the failure to consult with them. They turned to an employment law advice clinic at Bury Law Centre, at which Christine Peacock – the former Solicitor/Manager of the University's Legal Advice Centre – was a volunteer.
As the company was insolvent, it soon became clear that the clients wouldn't benefit from continuing with most of their tribunal claims – they were advised that their best option was to focus on the failure to consult in a collective redundancy situation. So the students continued with this, working to draft a witness statement and putting together evidence in preparation for a hearing.
The company did not contest the case, so the judge awarded the dismissed workers 90 days' gross pay. Together with redundancy, holiday and notice pay, the students helped to secure around £150,000 for their clients.
Lecturer in Clinical Legal Education, Fintan Walker, who works in the Legal Advice Centre, said: "Students are the foundation of all the good work done at the Legal Advice Centre. The experience they get from working with clients on active legal cases is crucial to their learning experience at the University. The work they do not only informs their studies but also equips them for their future careers."
The students involved in this case clearly feel the same way. Sophie Naughton, said: "Working on behalf of the clients was incredibly rewarding and provided an insight into the positive contributions that lawyers can have in practice. It has motivated me further to continue a career in law and provided a chance to practically apply my degree."
Fellow student Anuli Changa added: "I'm so happy that we were able to help the workers to get the justice that they were entitled to. It was great to be involved in a real employment case and I'm sure we we'll benefit from this."
Students' participation in the work of the Legal Advice Centre means they are equipped to take on the challenges they are likely to face in their future careers, something the former employees would agree with.  Joanne Bennett, one of the 21 former employees supported by the students said: "The students gave us invaluable advice, guided us, and had our case put forward – as a result, we were able to gain full redundancy packages and even a final payment which none of us had been aware we were entitled to. Without their assistance, I believe we would have only received a fraction of what we were due."