Small steps big changes campaign
06 Feb 2019
Residential and Sport services introduce campaign to gather ideas from staff about improvements to the service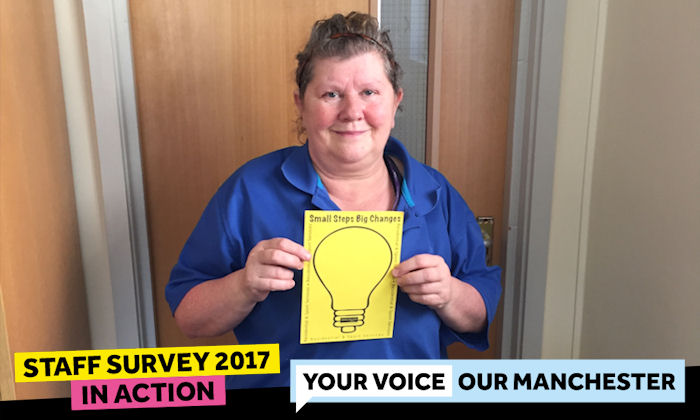 Staff Survey 2019 launches on Monday, 4 March so we're sharing some of the actions which have taken place as a result of your feedback in the 2017 survey.
In March 2018 Residential and Sport Services launched the 'Small Steps Big Changes' campaign. This initiative recognises that, over time, small changes add up to big transformations and together we can all make a difference.
As part of the 'Small Steps Big Changes' campaign all teams have been issued with individual notepads (pictured above) to make suggestions, however small, which will bring about improvements to the services and facilities we deliver.
The notepads are usually used during team brief meetings, but colleagues also use them outside of meetings, whenever an idea springs to mind.
To date a number of suggestions have been made:
colour coding for halls to improve way finding for residents;
the use of video conferencing for teams to reduce travelling times between meetings;
outside landscaping ideas for staff and students.
'Small Steps Big Changes' continues to be a success and Residential and Sport Services are looking to embed the campaign into business as usual. 
Staff Survey 2019 launches on Monday, 4 March and runs until Monday, 8 April.
You will receive an email or, if you don't work at a computer, be given the chance to fill in the Staff Survey form. It only takes around 15 minutes to complete, and you can be sure that all the information you supply will be anonymous and treated in strictest confidence. This is because the
Staff Survey 2019 is being administered on the University's behalf by an external company, Capita.
The survey results will be published in June.