Staff wellbeing activity extended
30 Jan 2019
Suite of wellbeing activity developed including events, training and champion network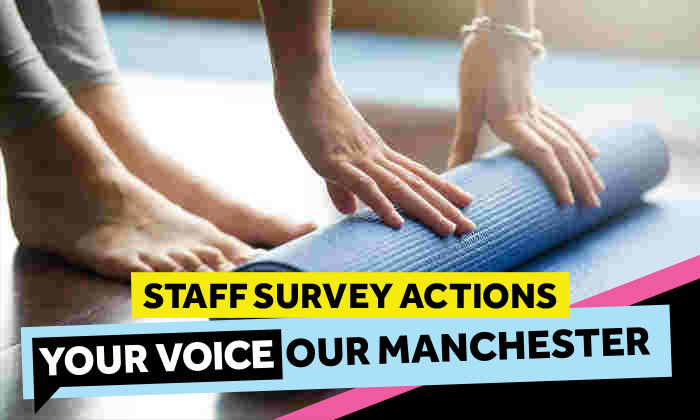 Staff Survey 2019 – which gives you the chance to feedback about your experience of working here – launches on Monday, 4 March.
Our last Staff Survey, in 2017, resulted in actions being taken right across campus to improve your working life.
These include more activities focused on staff wellbeing in addition to our huge range of existing fitness classes, clubs and training. 
Wellbeing champion network
Colleagues passionate about wellbeing from across the University have volunteered as wellbeing champions. Over the last year champions have organised events, training, and helped promote wellbeing activity. 
If you'd like to be a wellbeing champion, get in touch with:
Training for managers
We have developed training and resources for managers on how to support staff wellbeing and manage flexible working. Courses are available through the Staff Learning and Development calendar and resources can found on Managers Essentials. 
Thrive workshops 
'Thrive for individuals' is a 90 minute workshop led by a wellbeing coach, providing staff with opportunities to reflect on their own wellbeing and make plans for change.  'Thrive for teams' is an on-demand workshop, where a wellbeing coach will support a team to reflect on how they are working together with wellbeing in mind. Watch here:
Wellbeing lecture series 
So far there have been four lectures on resilience, positive psychology and helping your team to thrive.  Future lectures include how to get better quality sleep, how to improve happiness and even financial wellbeing.
Wellbeing events
We have hosted a wellbeing and benefits fair; 'Living and working with the menopause'; seminars on energy and sleep; faculty and team events.
Wellbeing blog
The Wellbeing blog shares stories, ideas and hosts guest posts from champions and colleagues.
Wellbeing activity continues to take place in 2019.
For more information, visit: