Choose a charity to benefit from Staff Survey 2019
04 Feb 2019
Your voice and your vote counts: choose three charities to benefit from each survey completed.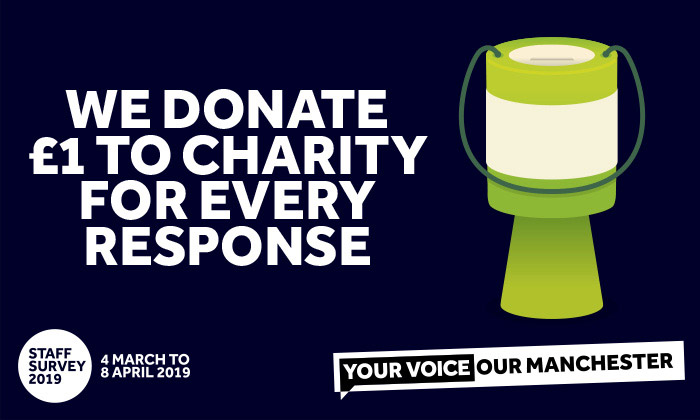 Monday, 4 March marks the start of the Staff Survey 2019, your opportunity to tell us about your experience of working at the University. 
For every survey submitted, the University will donate £1 to a local charity. You'll be asked at the end of the survey which charity – from a choice of three – you would like to send your donation to.  
Choose your charities
This week we're asking you to decide which charities receive our donations.
How our donations were used last time
In 2017, 72% of eligible staff took part in our Staff Survey. This meant more than £7,000 was raised for your three chosen charities: the Big Change Project, the City of Trees, and Moodswings. 
For the Big Change Project, who supports rough sleepers in getting off and staying off the streets, our donation went towards things like housing deposits, bus tickets and clothes for work.
What's next?
You have until 12 noon on Monday, 11 February 2019 to vote for your charities. We'll let you know the results of the poll next week. You don't need to do anything else – donations will be sent on behalf of the University once the Staff Survey closes.
Your thoughts count 
Staff Survey 2019 launches on Monday, 4 March and runs until Monday, 8 April. 
You will receive an email or, if you don't work at a computer, be given the chance to fill in the Staff Survey form. It only takes around 15 minutes to complete, and you can be sure that all the information you supply will be anonymous and treated in strictest confidence. This is because the Staff Survey 2019 is being administered on the University's behalf by an external company, Capita.
The survey results will be published in June.
For more information visit: