Stellar astronomical prizes for two Manchester researchers
14 Jan 2019
Two University of Manchester astronomers have been awarded some of the Royal Astronomical Society's (RAS) most prestigious prizes for their research and work in the field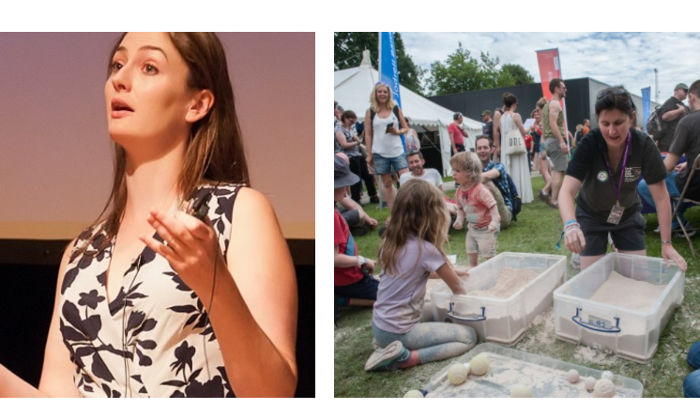 Professor Anna Scaife, Professor of Radio Astronomy, will be the 2019 recipient of the Jackson-Gwilt Medal, one of the highest honours the RAS can bestow on a researcher, whilst Dr Sarah Crowther has won the Annie Maunder Medal for her outreach work.
The Jackson-Gwilt medal has been awarded by the RAS since 1897 and won by other astronomical luminaries, such as the late Sir Patrick Moore. What makes Prof Scaife's award even more extraordinary is she is just the second female winner of the coveted prize in its 122 year history.
Despite her achievement, Prof Scaife, who is based at the Jodrell Bank Centre for Astrophysics, is also keen to recognise her international collaborators for their contributions to her work.  She said: "It's an honour to be recognised by the RAS with this award. Modern radio astronomy is a collaborative international effort and I would like to thank all of the colleagues I have worked with in these projects, and to dedicate this medal to them."
Prof Scaife will receive the prize for being "a world leader" in radio astronomy and leading on numerous international projects for the new generation of large radio telescopes, such as the Low-Frequency Array (LOFAR) and Square Kilometre Array (SKA).
Dr Crowther, a Research Fellow in the University's School of Earth and Environmental Sciences, will receive her award for "her phenomenal commitment, leadership and work in promoting Earth and Solar System Planetary Science over many years". This work includes a huge range of imaginative engagement activities and setting up a blog which takes meteorite and planetary science knowledge to a global audience.
But whilst also "delighted" with her prize, Dr Crowther says it is her responsibility as an academic to inspire the next generation of stargazers and scientists, she said: "I feel we have a duty to share our research and make it interesting, accessible and exciting to everyone, and to enable people of all ages and backgrounds to engage with the latest research.
"If we can inspire even just a few children and young people to go on and become the next generation of scientists and engineers then we've achieved something worthwhile. I'm delighted to receive this award for the work I, and my fellow colleagues, do trying to share our work with a wider audience."
The awards will be presented at the National Astronomy Meeting in Lancaster in July.