University to apply for Disability Standard
14 Jan 2019
Rigorous assessment across ten areas in support of our equality objectives – action from Staff Survey 2017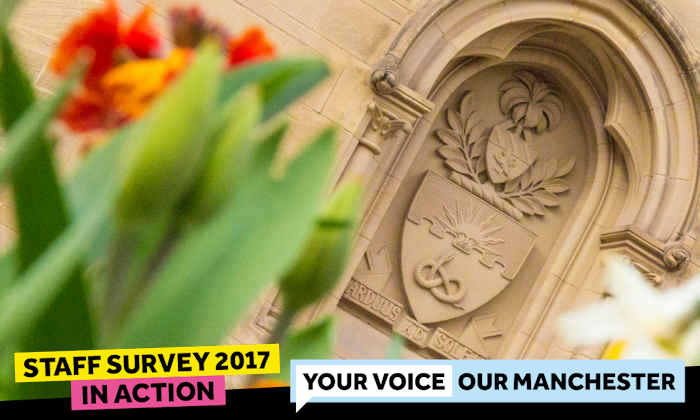 Staff Survey 2019 – which gives you the chance to feedback about your experience of working here – launches on Monday, 4 March.
Our people are our most valued asset and we want to ensure that you are satisfied with working here at the University, so we need to know what you think in order to make working here the best possible experience.
Our last Staff Survey, in 2017, resulted in actions being taken right across campus to improve your working life. These include undertaking a rigorous self-assessment and applying for the Disability Standard.
Staff Survey 2017 saw the biggest ever response rate – 72% based on the 10,584 staff asked to participate. But the results revealed that disabled staff were the most unhappy group of colleagues at our University.
In response to that, and in support of our equality objectives, we are using the Business Disability Forum (BDF) online management tool to measure and improve our performance for disabled staff, service users and stakeholders.
This will allow us to apply for the Disability Standard, which is similar to others the University is engaged with such as Athena SWAN, Race Equality Charter and the Stonewall Index. It too has three levels of award: bronze, silver and gold and covers ten areas of assessment.
Our Head of Equality, Diversity and Inclusion, Patrick Johnson said: "A team of colleagues from across campus, chaired by a senior University officer, is being formed. Once action plans have been developed to improve disability equality across the ten areas, we will seek external evaluation by BDF.
"We are determined to look at the situation and improve what is required. And we not only want the BDF's seal of approval – we want that of our staff."
The ten areas to be assessed are:
1.    Commitment
You promote your commitment to best practice on disability internally and externally. 
2.    Know-how
You equip your employees so that they are confident interacting with disabled people, knowing what to do and how to do it. 
3.    Adjustments
You anticipate the needs of disabled people and have a robust process for making any adjustments that might be needed by individuals. 
4.    Recruitment
You attract and recruit disabled people, which gives you access to the widest talent pool at every level. 
5.    Retention
You value all your employees, including those who are disabled or who become disabled, and are committed to their retention and development. 
6.    Products and services
You value your disabled customers, clients and service users and address their needs when developing and delivering your products and services. 
7.    Suppliers and Partners
You expect your suppliers and corporate partners to reflect and enable you to meet your commitment to disability best practice. 
8.    Communication
When you communicate with disabled people, you are as inclusive as possible and whenever necessary you make adjustments for individuals. 
9.    Premises
Your premises are accessible to people with disabilities and whenever necessary you make adjustments for individuals. 
10. Information and communication technology (ICT)
Your ICT is accessible and usable by disabled people and you also make adjustments for individuals. 
Staff Survey 2019 launches on Monday, 4 March and runs until Monday, 8 April.
You will receive an email or, if you don't work at a computer, be given the chance to fill in the Staff Survey form. It only takes around 15 minutes to complete, and you can be sure that all the information you supply will be anonymous and treated in strictest confidence. This is because the Staff Survey 2019 is being administered on the University's behalf by an external company, Capita.
The survey results will be published in June.