Your Manchester alumni magazine now available
09 Jan 2019
Printed copies of the 2018/19 issue of Your Manchester Magazine - for alumni and friends of The University - are available for staff to order from the Division of Development and Alumni Relations (DDAR)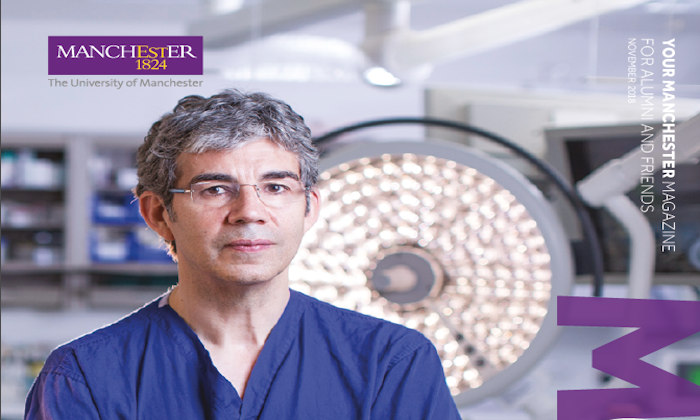 The magazine has been posted to 200,000 alumni and supporters, but extra copies are available for staff who would like to share the magazine with graduates at events, meetings, open days and any other occasions where there is face-to-face contact with alumni.
This edition showcases the impact that the University's graduates have on campus and beyond, and also features highlights from pages of The University of Manchester Magazine.
Among its pages, the issue includes:
life and death decisions: an interview with war zone trauma surgeon David Nott OBE;
putting Manchester on the map: how researchers are exploring the cartographic stories of the city;
a Yorkshireman in New York: how the alumni-supported Global Graduates programme helped student George Flesher see the world through a wider lens;
the human rights advocate, the biochemist and the spaceflight pioneer: three recipients of the Outstanding Alumni Award share the stories of their successful careers;
how new research is uncovering the stories of members of the University community who died in World War I;
tackling taboos, empowering women: how a charity established by an alumna is providing health and wellness education.
The magazine can be previewed online at: https://issuu.com/alumniuom/docs/m2229_your_mcr_2018_low_res 
Order copies
Please contact Tom Fern, Senior Communications Officer in DDAR, at tom.fern@manchester.ac.uk or on 63527, stating the number of copies you would like and which room to deliver them to.
Please note that copies of the magazine should not be posted to alumni - please speak to Tom Fern if you would like to mail the magazine to a graduate. Alumni who would like to receive future issues should check and update their personal details on the Manchester Network.