Staff volunteers make it a Christmas Day to remember for local care leavers
04 Jan 2019
More than 50 care leavers enjoyed Christmas Day with all the festive trimmings, hosted by our Chancellor Lemn Sissay MBE at Chancellors Hotel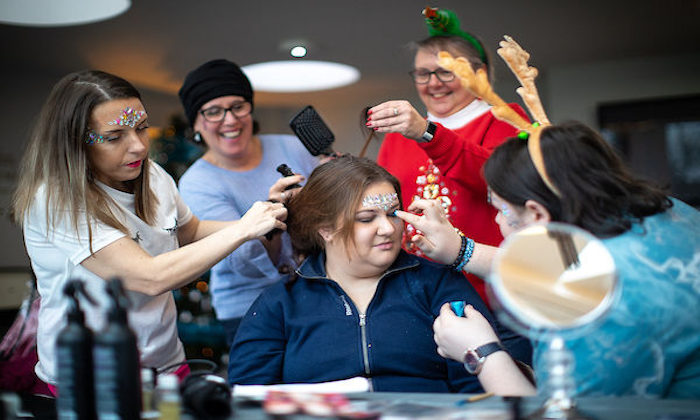 The project, which started in Manchester in 2013, is for young care leavers who have recently left the care system and who would otherwise be alone at Christmas. Many care leavers spend Christmas on their own in flats, B&B's, hostels, sofa surfing or even living on the streets. 
Head of Hospitality and Events Alison Shedlock said: "Every year we get people who say it is the highlight of their year. We try to make it the kind of Christmas everyone would have."
Manchester's event wouldn't be possible without the generous support of the University, the City Council, local suppliers, donors – and the volunteers who give up their time to give the young people a Christmas they'll never forget.  
And it's the volunteers, many of whom are University staff, who make the day extra special.  A steering group met regularly from September – to organise everything logistically, from finance to food.  And on the day, hosts join in activities. The main event, the Christmas dinner, was donated by University suppliers and cooked by our University chefs Janice and Andy, who volunteer on both Christmas Eve and Christmas Day. The turkey got a grand entrance - a piper played as it was brought to the table.
After dinner Father Christmas delivered presents all kindly donated via an Amazon wish list, or from the University of Manchester PA network and CityCo.  Children's presents came from Hits Radio. All the guests went home in a taxi provided by Manchester City Council having had a happy day making new friends and having fun.
Alison adds: "I'd like to thank everyone involved for making it another Christmas Dinner to remember – without a doubt it makes a real difference to these young people's lives."
And Lemn Sissay said: "The Manchester Christmas Dinner is very close to my heart, as this is where the initiative started.  So many individuals give their time, energy and resources. They start meeting in September to organise one day, the day many of us are with our families, to make sure no care leaver is alone."
Journalist Helen Johnson from the Manchester Evening News spent the day at Chancellors reporting on the festivities, you can read her article for more inspiring stories from the care leavers. 
IMAGE CREDIT: Joel Goodman Photography