Rock the ribbon for World Aids Day
26 Nov 2018
World Aids Day at the University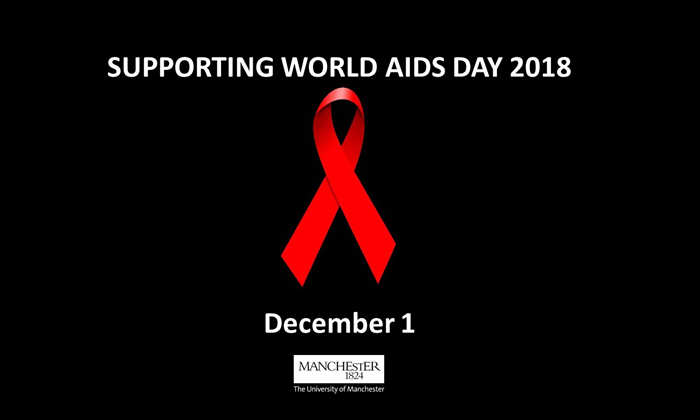 World Aids Day will take place on Saturday, 1 December and for several years the University has raised thousands of pounds for this important cause. 
Once again ALLOUT LGBT staff network, Black Asian Minority Ethnic (BAME) staff network and the Disability Staff Network (DSN) are collaborating to raise money for those communities impacted by the disease.
Collection tins and red ribbons will be available at the following locations:
Roscoe - Staff Learning 5th Floor
Bainbridge House
St Peter's House Reception
Ellen Wilkinson Reception
Stopford Building Reception
Williamson Building  Reception
Student Support
Ellen Wilkinson Reception
Michael Smith Reception
Student Services
Main Library
Human Resources Services, Second Floor, Simon Building
Pensions Office, G.029 John Owens Building
There will also be cake sales at:
Brunswick Park marquee, Thursday, 29 November between 11am and 2pm
Arthur Lewis Building Foyer Friday, 30 November
C1.49 Ellen Wilkinson Friday, 30 November
Students' Union building foyer
The Student's Union are also offering FREE confidential HIV Testing and will be hosting a pub quiz in 532 bar + restaurant at 6pm.
If you would like further information, please contact equalityanddiversity@manchester.ac.uk