University Bake Off winners announced
09 Nov 2018
Staff raise £175 for Macmillan Cancer Support in the University Great British Bake Off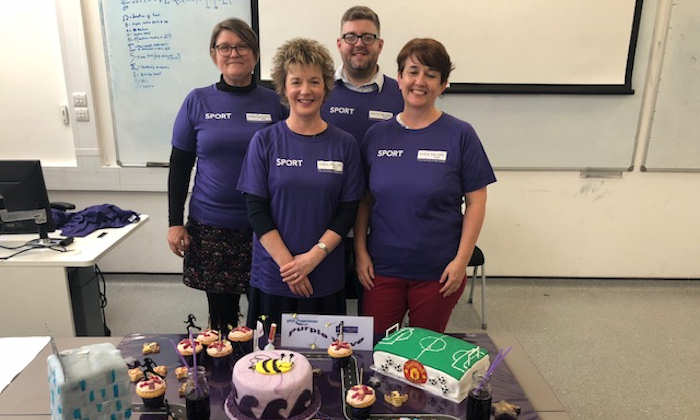 On Wednesday, 24 October colleagues from across the University came together to show off their baking skills in competition for the title of The University of Manchester's first Star Baker and to raise money for Macmillan Cancer Support in their World's Biggest Coffee Morning. A total of £175 was raised.
In Great British Bake Off (GBBO) style, over 30 entrants competed in categories including: gluten free, vegan, nut free, brownies, cookies, classic cakes and everyone's favourite – the show stopper. 
Colleagues from School of Physics and Astronomy; School of Environment, Education and Development (SEED); the School of Mathematics; the School of Mechanical, Aerospace and Civil Engineering (MACE); Division of Cancer Sciences; Chancellors; the Library as well as entries from within the Directorate for Student Experience went head to head for a variety of prizes, all for an excellent cause. 
The judges, Paul Gratrick (Careers Service), Sue Pollitt (Student Services Centre), Chantel Riley (Social Sciences), Chris Jordan (SEED) and Dylan Mangan (Division of Cancer Sciences), tested a variety of treats, judging on flavour, texture and aesthetic. Winners were awarded a choice of a GBBO recipe book, a Lakeland voucher or a University Star Baker apron. Congratulations to the winning bakers:
Vegan
Winner: Jitesh Gajjar, School of Mathematics
Runner up: Emma Alexander, School of Physics & Astronomy
Classic cake
Winner: Jessica Taylor, School of Materials 
Runner up: Emma-Louise Cullen, Division of Psychology and Mental Health
Cookies
Winner: Mark Hastings, UoM Library
Runner up: Maddie Christodoulou, International Office
Brownies, Blondies, Bits and Bobs
Winner: Kerry McCann, SEED
Runner up: Shazia Dar, Faculty of Biology, Medicine and Health
Showstopper
Winner: Mandi Clark, Stephanie Fisher, Vickie Hamilton, Poppy Humphrey, Mark Hibbert, Helen Mcglashan, Residential and Sport Services 
Runner up: Suzanna Dickson, FBMH
Nut free
Winner: Lizzie Barrett , Student Lifecycle Project
Gluten free
Winner: Katherine Hall, SEED
The University Bake Off organisers, Rachel Mutters and Jenny Sloan, would like to thank all of the talented bakers who displayed their work and raised money for Macmillan, and a big thank you to everyone who turned up on the day to support the bakers.