A collaborative culture through agile working at the Library
08 Nov 2018
Agile working encourages collaboration amongst Library teams - action from Staff Survey 2017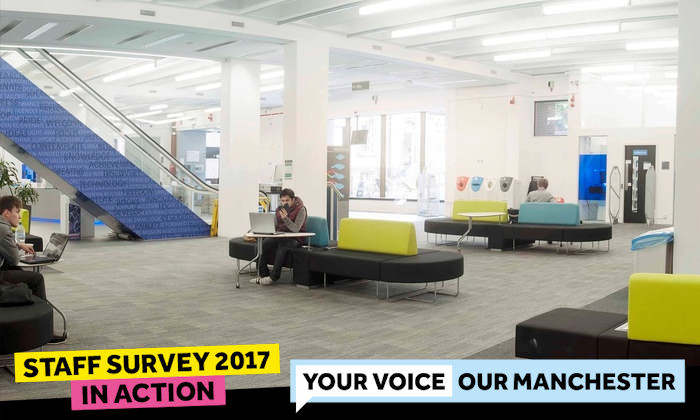 Seven Library team workspaces accommodating 70 staff were improved following feedback from the 2017 Staff Survey.
Simon Bains, Interim University Librarian, said, "Flexible workspaces encourage staff to be mobile and to feel more comfortable working in different spaces and with different teams. We're really pleased with the action we took from the Staff Survey as it has produced a stronger culture of agile working and team collaboration within the Library."
Feedback since the changes were made shows that the improvements positively affected the satisfaction of staff with regards to their productivity, their working environment and their well-being.
Mike Kelly, Library Space Development Manager, said, "Evaluation of the work demonstrated a critical shift in staff mind-set towards their workspace. The improvements we made and the buy-in to agile working supports a number of Library priorities such as culture change, the redevelopment of Library spaces and our Digital First approach to work meaning we are sustainable with laptops used more often than printouts. Agile working ensures we can work in smarter, better ways for the future of the Library."
This positive action from Staff Survey 2017 has seen colleagues comment that they now feel less tied to their desks, enjoy a better culture in their teams and collaborate more effectively across the Library.