WATCH: My Manchester development team demonstrate new features
06 Nov 2018
Guidance from the Student Lifecycle Project Digital Team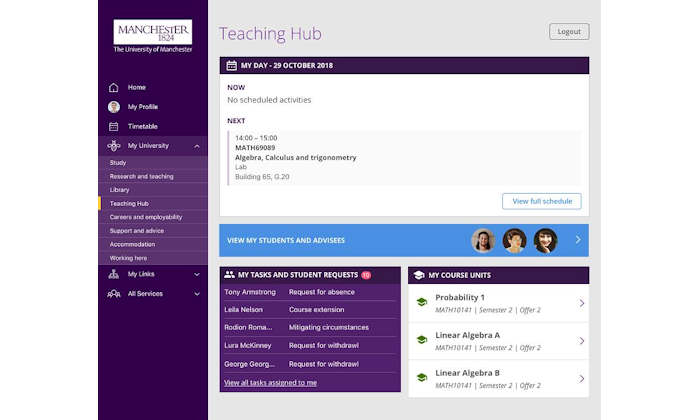 As the build of the new My Manchester has progressed, the Student Lifecycle Project Digital Team have been demonstrating new features to academic and professional services staff across the University.
A recording of the latest demonstration can be found below. It covered:
Progression Dashboard: a student's view of their academic and extracurricular progress (including Stellify and Higher Education Achievement Reports)
My Requests (including the digital mitigating circumstances, interruptions, complaints and appeals processes)
The Teaching Hub for academics (including My Students and My Advisees dashboards for academics)
Student Support Triage
These features will be released as part of the Student Lifecycle Project, building on initial changes to My Manchester introduced in January 2019.
A further demonstration of My Manchester features will be held later this month, details of which will be shared on the SLP website.
More information