Graphene innovation award winners announced
23 Aug 2018
Two new technology businesses share this year's £70,000 prize for novel applications of graphene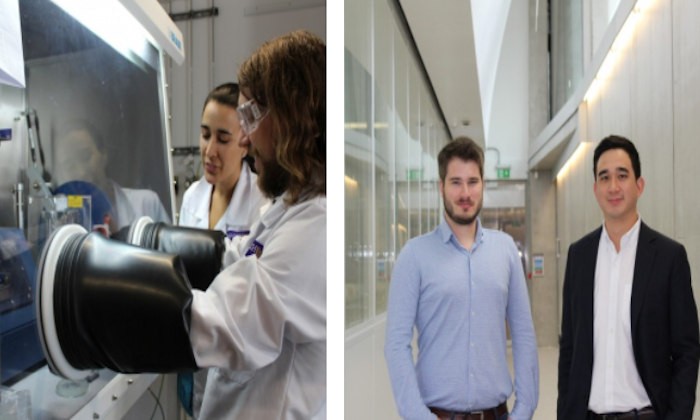 The two Manchester teams are seeking breakthroughs by using graphene in the treatment of brain cancer and to radically improve battery performance.
The Eli and Britt Harari Graphene Enterprise Award, in association with Nobel Laureate Sir Andre Geim, is awarded each year to help the implementation of commercially-viable business proposals from students, post-doctoral researchers and recent Manchester graduates based on developing the commercial prospects of graphene and related 2D materials.
The first prize of £50,000 was awarded to Honeycomb Biotechnology and its founders; Christopher Bullock, a Biomedical Engineer in the School of Health Sciences who is due to complete his PhD on developing novel graphene biomaterials this autumn, and Richard Fu, a NIHR Academic Clinical Fellow and Specialty Registrar in Neurosurgery based at the Manchester Centre for Clinical Neurosciences.
The team are seeking to develop a surgically implanted device using graphene electrodes to deliver targeted electrotherapy for the treatment of Glioblastoma Multiforme - a form of brain cancer. They hope that this technology can work in conjunction with other treatment modalities to one day turn fatal adult brain cancer into a manageable chronic condition.
Richard Fu said: "Glioblastoma Multiforme (GBM) remains a tragic and deadly disease. This award provides us with the opportunity and funding to further develop what is currently an exploratory treatment idea that could one day make a meaningful difference to the lives of patients".
Christopher Bullock added: "We are very grateful to Eli and Britt Harari for their generosity and for the support of the University, which has enabled us to try and turn our ideas into something that makes a real difference".
The runner-up, receiving £20,000, was Advanced Graphene Structures (AGS), founded by Richard Fields, Alex Bento and Edurne Redondo. Richard has a PhD in Materials Science and Edurne has a PhD in Chemistry, they are both currently research associates at the University; Alex is currently working as a freelance aerospace engineer.
Richard Fields said: "Many industries are interested in benefiting from the properties of graphene, but they are hindered by a lack of new processing tools and techniques, ones which could more effectively capture these beneficial properties. We intend to develop new tools and techniques which can constructively implement graphene (alongside other 2D/nanomaterials) into advanced energy storage devices and composite materials".
The technology aims to radically improve the performance of composite materials and batteries, this will be achieved by providing control over the structure and orientation of 2D/nanomaterials used within them. An added benefit of the solution is rapid deployment; the team have identified a real technological opportunity, which can be readily added to existing manufacturing processes.
Graphene is the world's first two-dimensional material, one million times thinner than a human hair, flexible, transparent and more conductive that copper.
No other material has the same breadth of superlatives that graphene boasts, making it an ideal material for countless applications.
The quality of the business proposals presented in this year's finals was exceptionally high and Professor Luke Georghiou, Deputy President and Deputy Vice-Chancellor of The University of Manchester and one of the judges for this year's competition said: "Our commitment to the support of student entrepreneurship across the University has never been stronger and is a vital part of our approach to the commercialisation of research. The support provided by Eli Harari over the last four years has enabled new and exciting new ventures to be developed. It gives our winners the early-stage funding that is so vital to creating a significant business, while also contributing to health and social benefit. With support from our world-leading graphene research facilities I am sure that they are on the path to success!"
The winners will also receive support from groups across the University, including the new state-of-the-art R&D facility, the Graphene Engineering Innovation Centre (GEIC), and its support infrastructure for entrepreneurs, the Manchester Enterprise Centre, UMIP and Graphene Enabled Systems; as well as wider networks to help the winners take the first steps towards commercialising these early stage ideas.
The award is co-funded by the North American Foundation for The University of Manchester through the support of one of the University's former physics students Dr Eli Harari (founder of global flash-memory giant, SanDisk) and his wife Britt. It recognises the role that high-level, flexible early-stage financial support can play in the successful development of a business targeting the full commercialisation of a product or technology related to research in graphene and 2D materials.