Welcoming our local friends and neighbours on campus
21 Jun 2018
On Saturday, 16 June around 2,000 people from our local and wider communities were welcomed onto campus for our second annual Community Festival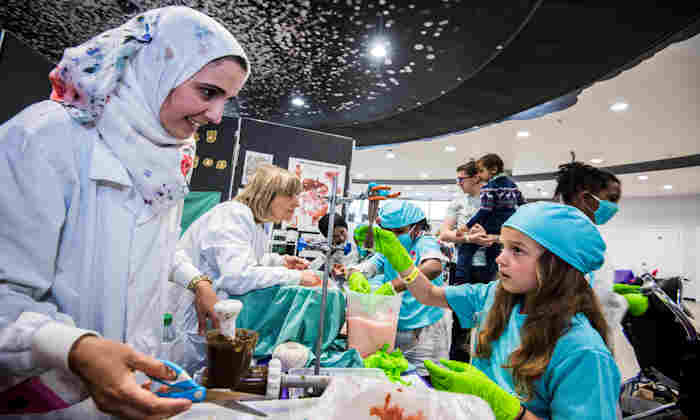 The free event opened up the doors of the University for the public to come inside and find out all about our work through interactive, fun activities.
Members of the public, young and old, took the opportunity to get hands-on, go behind the scenes and find out more about our work and the exciting research undertaken at the University.
From discovering how drugs get to the right part of the body and using tiny materials to treat diseases, to the art of a traditional Chinese tea ceremony, creating electronic music and walking on water; there was something for everyone! The Flash-Bang chemistry show proved to be the highlight of the day for many, as children, parents and grandparents, flocked to the Chemistry Building to experience, dry-ice, fire and explosions. Visitors also enjoyed finding out more about our history by taking a heritage tour across campus. 
The weather stayed dry enough to allow people to enjoy the outdoor activities of a helter-skelter and to take the opportunity to scale the climbing wall, whilst the face painting proved as popular as ever with the younger visitors!
Dr Julian Skyrme, Director of Social Responsibility, said: "It was exciting to welcome so many people from our local communities onto the University campus, getting involved and finding out more about our work. This was the University at its best, sharing our knowledge and involving the public in the full spectrum of our work". 
Rob Nixon, a visitor to the event, said: "This is the second time my daughter and I have been to the University's Community Festival. It's a great day and fantastic way to see all the different things that go on at the University. We really enjoyed it and will be looking out for next year's Festival!"
To see the full Festival programme. visit the social responsibility website.
Photographs of the event are available on the social responsibility Facebook page.