Sneak peek at the GEIC
30 May 2018
The Graphene Engineering Innovation Centre (GEIC) has celebrated a key milestone in its construction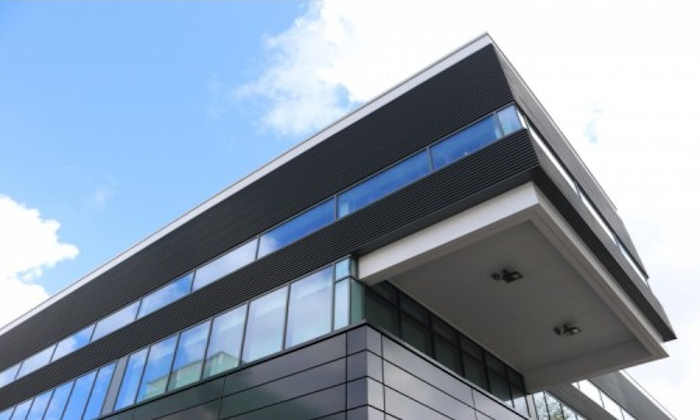 The first phase of the building has now been handed over to the University ahead of the installation and fit-out of equipment. Additional works are already underway to fit out the laboratories ahead of the centre opening later this year.
This is the first look at the newly completed £60m Centre, which will be housed in The Masdar Building, which will accelerate the commercial pace of graphene and 2D materials in Manchester.
The GEIC will focus on industry-led application development in partnership with academics. It will fill a critical gap in the graphene and 2D materials ecosystem by providing facilities that focus on pilot production, characterisation, together with application development in composites, energy, solution formulations and coatings, electronics and membranes.
Along with the National Graphene Institute and the £105m Henry Royce Institute building (set to be completed in 2019) the GEIC will be crucial in maintaining the UK's world leading position in advanced materials.
The GEIC will also act as the cornerstone of the University's vision to create a Graphene City in the heart of Manchester, made up of scientists, manufacturers, engineers, innovators, investors and industrialists to build a thriving knowledge-based economy.
James Baker, CEO Graphene@Manchester, said: "The GEIC is a key component of the University's strategy for Graphene@Manchester. The centre's aim is to accelerate the commercialisation to real-world applications to transition graphene and other 2D materials from the lab to the marketplace."
"As both the renewable energy company of Abu Dhabi and the principal funder of the Graphene Engineering Innovation Centre, we're thrilled to witness the handover of the first phase of this unique collaborative project, strengthening as it does the close business, academic and cultural ties between Abu Dhabi and the city of Manchester," said Mohamed Jameel Al Ramahi, Chief Executive Officer of Masdar.
Diana Hampson, Director of Estates and Facilities at The University of Manchester, said: "This building plays an important role in The University's Campus Masterplan, creating a world-class facility of benefit to our researchers. The GEIC will help consolidate The University of Manchester's status as a world-leader in graphene and related 2D materials research."
Advanced materials is one of the University's research beacons - examples of pioneering discoveries, interdisciplinary collaboration and cross-sector partnerships that are tackling some of the biggest questions facing the planet.