Manchester Histories Festival returns 7-11 June 2018
29 May 2018
The School of Arts, Languages and Cultures is delighted to be part of the Manchester Histories Festival 2018.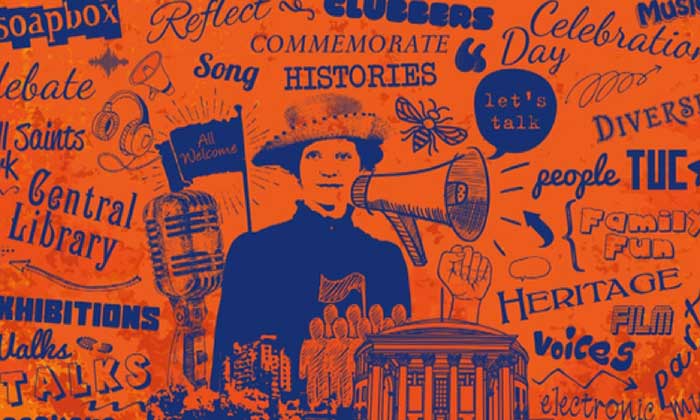 Returning for its 5th edition from the 7-11 June 2018, the biennial Manchester Histories Festival will offer a packed long-weekender of discovering histories and heritage through music, film, debate, talks, theatre, performance, walking tours, arts and much more. It will include the wondrous Manchester Histories Celebration Day – this year moving to a new venue of Manchester Central Library.
Delivered by charity Manchester Histories, the 2018 Manchester Histories Festival features a brand-new format and with a programme of events curated by Manchester Histories, alongside partner events happening across Greater Manchester, and all inspired by the festival theme of protest, democracy and freedom of speech.
The theme of protest, democracy and freedom of speech for Manchester Histories Festival 2018 comes in the year that marks the 100th anniversary of The Representation of the People's Act, brought in to reform the electoral system in Great Britain, a movement that began in Manchester; and the 150th anniversary of the formation of the TUC (Trades Union Congress) in Manchester and Salford in 1868 by the Manchester and Salford Trades Council with values of democracy, freedom of speech and the right to protest going to the very heart of the organisation; plus, Manchester Histories is developing and delivering programmes of work to lead up to the 200th anniversary of the Peterloo Massacre in 2019.
Further information:

Follow the Festival: