The Magic of Musicals relaxed performance
01 Jun 2018
FREE family-friendly fun at the Martin Harris Centre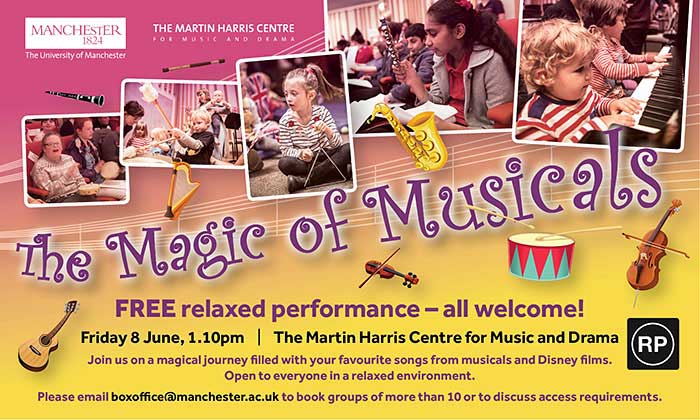 On Friday 8 June at 1.10pm, join us on a magical journey filled with your favourite songs from musicals and Disney films.
This event is a wonderful opportunity to hear live music in our beautiful concert hall performed by talented Music students.
Audience members will have the chance to meet the performers and try some musical instruments themselves.
This event is FREE for everyone, but booking is essential for groups of more than 10 attendees, including children, or anyone with specific access requirements.
We encourage you to book as early as possible to avoid disappointment.
How to book:
Please contact the Martin Harris Centre box office on 0161 275 8951 or email boxoffice@manchester.ac.uk. We would be happy to discuss any access requirements or parking queries you may have.
If you are not attending in a group then you do not need to book but please note that seating will be first-come, first-served.
The concert will start at 1.10pm and finish at 2pm.
More information: