Saying goodbye to Gorgosaurus as Manchester Museum embarks on exciting future
10 May 2018
Manchester Museum is saying goodbye to the Gorgosaurus on Friday 11 May, but he'll just be across the road to welcome students in the School of Earth and Environmental Sciences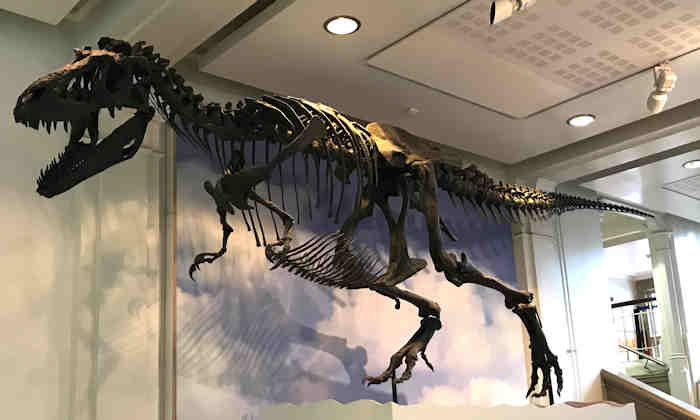 Rehoming the Gorgorsaurus makes room for a transformation and development of Manchester Museum, which includes a new exhibition space, the North's first South Asian gallery in partnership with the British Museum, improved visitor facilities and an extended and more ambitious programme of activities. Work will start in August 2018 and the finished building will reopen in late 2020. 
Gorgosaurs lived 75 million years ago and is a cousin of Stan, our T. rex. He has welcomed visitors to Manchester Museum for the last couple of years and is now moving to his new home to inspire University researchers and students. Stan the T. rex will remain at the Museum.
David Gelsthorpe, Curator of Earth Sciences said: "We will be sorry to say goodbye to the amazing Gorgosaurus, but he won't be going far.
"It is an incredibly exciting time at the Museum and Stan the T. rex will be on display scaring children and adults alike for years to come."