Policy@Manchester team win at Educate North Awards
27 Apr 2018
Policy@Manchester - our dedicated policy engagement unit - has been recognised as External Relations Team of the Year in the Educate North Awards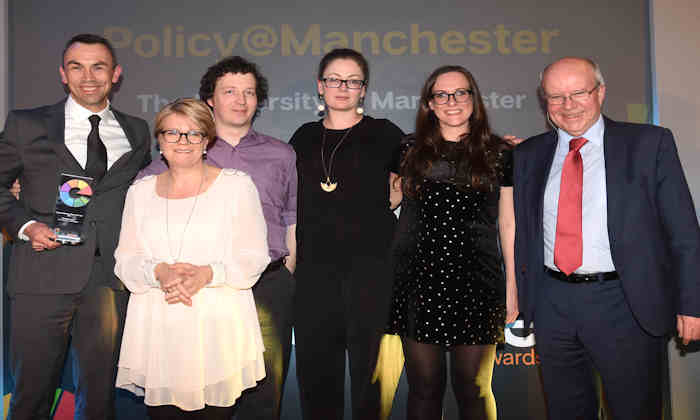 The team, which is based in Humanities but works right across our three Faculties supporting research impact, collected their award at a glittering ceremony in Manchester. 
The recognition comes just days after the team finished runner-up in the Guardian University Awards for Social and Community Impact.
Alex Waddington, Head of Communications and Engagement at Policy@Manchester said: "Policy@Manchester has come a long way since its inception in 2012, and this award recognises the hard work and skill of the whole team in linking our world-class research to the priorities of policymakers and influencers. 
"It's fantastic to get this recognition - but we couldn't do what we do without the support and involvement of our academic colleagues, whose work is shaping and changing the world. 
"We like to think we help them to do this more effectively, and we look forward to delivering more award-winning work together in future years."
Pictured: the Policy@Manchester team collect their award