Dr Meini Su receives prestigious award
23 Apr 2018
Meini Su, School of Mechanical, Aerospace and Civil Engineering, has been awarded the AJF Gold Medal Prize in the 46th international exhibition of inventions Geneva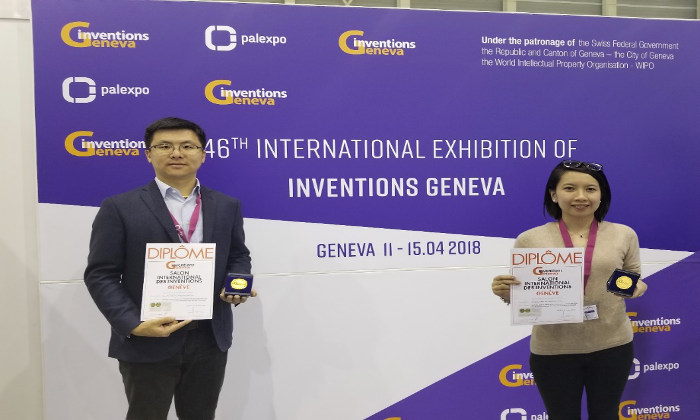 The 46th international exhibition of inventions Geneva was held on 11 – 15, April, 2018. The invention of "The EHD green recycling method for carbon fibers" jointly invented by Dr Meini Su (pictured right) from the School of Mechanical, Aerospace and Civil Engineering, The University of Manchester and Professor Ji-hua Zhu (pictured right) from College of Civil Engineering, Shenzhen University (China) was awarded the AJF Gold Medal Prize in the exhibition. The new recycling technique is from a joint research project conducted between Dr Meini Su and Professor Ji-hua Zhu.
The International Exhibition of Inventions of Geneva is the biggest and most prestigious inventions exhibition in the world, with more than 1000 new inventions and products, 822 exhibitors from 40 countries. The annual international exhibition is a major global event dedicated to innovation and to new products, serving as a platform for inventors and potential buyers from all over the world to exchange latest information.
Carbon fiber reinforced polymer (CFRP) composites consisting of reinforcing carbon fibers and an epoxy resin matrix have been widely used in aerospace, vehicle, wind power generation and construction industries since 1980s. The increasing application of CFRPs results in the generation of a significant amount of their waste materials. CFRP waste, which contained valuable carbon fibers, is hardly decomposed in a natural environment; therefore, the recycle and reuse of CFRP composites without damages to mechanical properties and dimensions become an urgent challenge for sustainable development.
Dr Meini Su's and Professor Ji-hua Zhu's newly proposed recycling method is found to be green, simple and affordable. The simplicity of the procedure and the low facility demand enable wide application of this method to recycle large volumes of CFRP waste from different industries. More importantly, this method has no size limit on the CFRP composite and the fiber length could be maintained in the recycling procedure, which increases the value of the recycled fibers.