Our University is top for UK business research income
23 Apr 2018
Newly released official statistics show we've attracted the most research income from UK industry of any institution in the country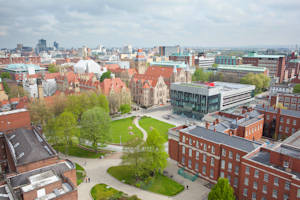 Newly released official statistics show that the University has attracted the most research income from UK industry of any institution in the country.
The figures, from the Higher Education Statistics Agency (HESA), show that Manchester attracted £24,831,000 of research income in 2016-2017 from UK industry, commerce and public corporations. This places Manchester above other elite universities such as Cambridge, Imperial and Oxford.
Deputy Vice-Chancellor Professor Luke Georghiou, said: "We are delighted to be UK business's favourite university and more importantly to be contributing to jobs and growth through the application of our leading-edge research. The statistics reflect a lot of hard work by our researchers, our business engagement team and their industrial partners."
The University works with a range of different organisations from large multinationals such as Unilever, Astra Zeneca and Rolls Royce, to local small and medium enterprises (SMEs). This occurs through its Business Engagement Support Team which acts as a gateway to research, recruitment and consultancy services.
Work with strategic partners includes conducting clinical trials on new drugs, developing lightweight materials that make aircraft more efficient, applying digital skills to manufacturing, and understanding how companies can influence their consumers towards more environmentally-friendly behaviour.
One of the other companies which has benefitted from working with the University is Ritherdon, a Darwen-based company which makes steel boxes. The company wanted assistance for simulation of vehicle impacts on their roadside metal cabinets in order to develop a passively safe roadside metal cabinet that would shear away near its base on impact with a vehicle, thereby significantly reducing the risk of serious injury to any passengers.
Following work with the University's School of Mechanical, Aerospace and Civil Engineering, the company now has a patent pending and the relationship has grown to incorporate new projects and external funding.
The University also works with charities. In the case of Tearfund, a Christian relief and development agency, this saw the development of smartphone technology which helps reunite families separated during disasters, directs people to safe places which have supplies and another app which quickly determines if someone is malnourished, using a camera phone.
These partnerships were created through the University's Business Engagement Support Team, which is made up of staff who work at central and faculty levels and so have close understanding of academic research areas which can contribute to a business's development. From June the Team will be under the management of a new Head of Business Engagement, Jon Price, who joins the University from King's College London.
More information
For more information and other case studies, visit: