Over 2000 people join the Purple Wave
19 Apr 2018
Sign up to the Purple Wave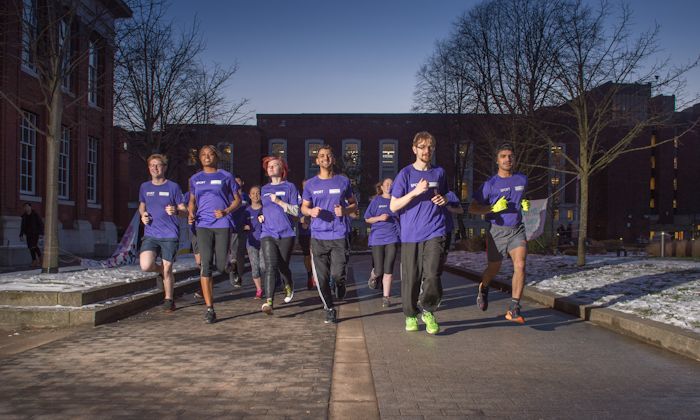 More than 2000 staff, students and alumni have registered for the Simply Health Great Manchester Run as part of The University's Purple wave on May 20.
The organisers are bidding to beat last year's record-breaking total of 2,500 runners, who took part in the 10k race in Central Manchester.
The University will have its own start time, with a Purple Wave of runners wearing the purple technical running t-shirts they receive on registration.
The team have been enlisting the help of superstar athletics legend Mo Farah who urged everyone from The University of Manchester to sign up for the Simply Health Great Manchester Run on Sunday, 20 May.
Farah will be taking part in the event, and told staff, students and alumni: "Good luck to everyone from The University of Manchester." He added: "Get cracking guys, still time to sign up to the Purple Wave."
Runners who agree to fundraise for The University's acclaimed Undergraduate Access Scholarship will be able to take part for free. The scheme support's bright young people who come from the most deprived parts of Greater Manchester.
University staff and alumni can also register for free when they commit to raising £100 for the scheme.
The internationally renowned 10k run will be staged for the 16th time, with the day also including a half marathon in the heart of the city.
Champion triple jumper Naomi Ogbeta, is a proud supporter of the project.
She said: "The Great Manchester Run is a brilliant event; anything which gets people out and exercising can only be a good thing.
"The Purple Wave is totally unique. As far as I know, no other University has its own wave.
"I urge all students, staff and alumni to register and get involved. You'll have a brilliant time!"
More information