Spotlight on Professional Support Services
18 Apr 2018
Joanna Owen, Media Production Technician tells us about what she likes about her job and why no day is ever the same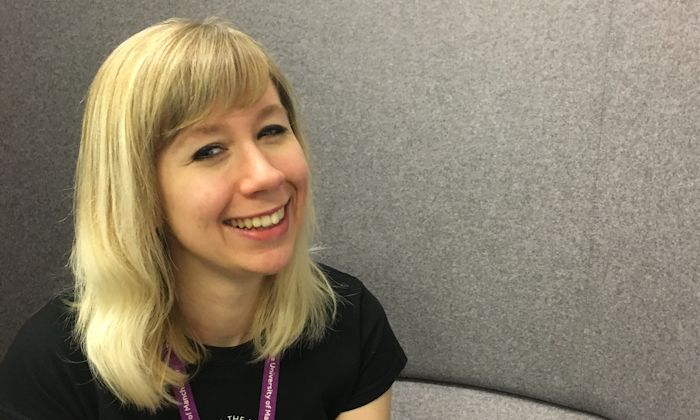 Joanna Owen, Media Production Technician, Directorate of Estates and Facilities
Can you tell me about your role? 
My job involves filming various events around the University.  I'm involved with both the filming and the editing.  The Media Services offer an in-house media production service. We produce professional audio-visual material for teaching and research. We also do promotional videos for different departments, events and award ceremonies. We recently filmed the Graduation ceremonies. 
What do you like about your job? 
I like how varied it is, no week is ever the same as the other. One week could be dedicated to going on shoots, and the next week could be all about editing the footage. It's a very varied role which is something I like. 
It's also interesting; I might go on a shoot and film a guest lecturer and I'll have the opportunity to listen to interesting talks on a specific subject.  Or I'll have to edit a talk, and you learn things along the way that you never would have thought about in any other line or work. I feel like I'm learning as I'm working which is great. I have access to all this education.  I recently did an edit on a Shakespearean talk and got to listen to a lecture on Hamlet, by the end of it I thought to myself maybe I should give Hamlet a go – it sounds really interesting!    
What do you like about working for The University of Manchester?
I like working at the University because it feels like it's got its own little community. I like the fact that there's something on offer for everyone who works here – there's lots of places to eat, you can exercise and you can do lots of classes. It seems that there's a lot in place to try and take care of the staff. I also like that they're conscientious about the environment and social responsibility. It's nice to see that in a work environment because I don't think you see that very often.  
Get in touch
If you would like your job to be featured next please contact uninews@manchester.ac.uk with the subject 'Proud to be PSS'.