Give It Don't Bin It campaign is an award winner
13 Apr 2018
Give It Don't Bin It campaign, initiated and led by teams from Manchester Metropolitan University and The University of Manchester, has won the Association of University Directors of Estates' (AUDE) Reaching Higher award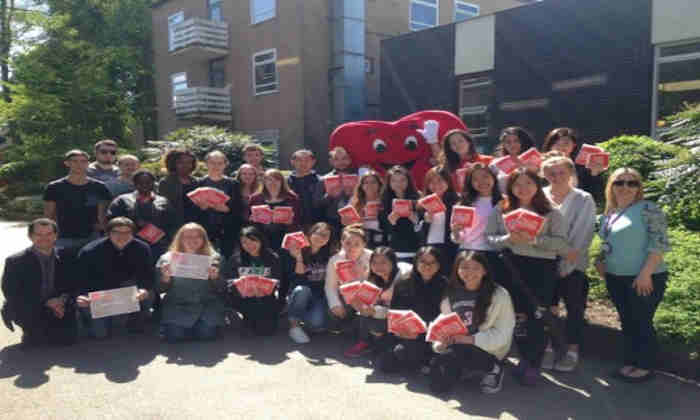 This award celebrates a member of staff, team or campaign, working in estates or facilities management, that is going above and beyond expectation and truly driving positive change in their field.
The 2018 AUDE Awards celebrate and highlight the achievements of universities and best practice in the industry, including those who lead the way in estate and facilities management.
The Give It Don't Bin It (GIDBI) campaign has grown from small beginnings in 2008 to become the UK's most successful student re-use campaign. At the end of term time, as students disperse across the country and indeed the world, they are urged to donate unwanted items for re-use or re-sale. 
With a residential student population of more than 70,000 the city was dealing with a considerable problem with abandoned items. In those early days the mountain of unwanted items – from clothing and cookware to electrical items and food – was an eye-opener. For the first time, instead of being thrown away, these items were donated to charities and waste items were recycled. 
From those early beginnings the campaign has grown every year, and it now runs in a network that covers the whole of the universities' footprint across the city. The campaign's main charity partner The British Heart Foundation (BHF) has now raised more than £1m from goods donated as part of the campaign.
Environmental Co-ordinator Alexander Clark said hitting £1m of money raised for BHF in 2017 is a real landmark. "There are just so many reasons why this campaign is thriving," he said. "Our students get that just dumping unwanted goods into landfill is such a terrible waste. 
"The campaign is professionalising the idea of 're-use' – finding a second home for goods that would otherwise be thrown away and raising money for great causes in the process.
"To know that we have been able to fund BHF research into the link between poor air quality and long-term heart conditions is amazing. But it isn't just BHF who are benefitting from this campaign. Last year we funded more than 4,000 free meals delivered by the Manchester Central Foodbank. 
"Our students know they are doing a good thing for the local environment by getting involved, and our charity links add further great reasons to support us."
The University's Vice-President for Social Responsibility, Professor James Thompson, said: "The University is committed to making a difference across the city of Manchester and Give It Don't Bin It is the perfect campaign that shows how working together with our partners, can make a huge impact to help the lives of people across Manchester."
Speaking on behalf of AUDE, Executive Director Jane White said: "This project may have been up and running for some years, but it continues to stretch towards new horizons. 
"Our judges were impressed by the extent of the partnerships that have now developed across Manchester, typical of the way our universities interact with commercial and third sector partners and is marked strongly in this case by the depth of the engagement with the charities BHF and Manchester Central Foodbank. £1m raised for BHF is a fantastic achievement."