Tuesday lunchtime market moves to Thursday - for one week only
05 Apr 2018
The popular lunchtime market will be on campus at Humanities Bridgeford Street on Thursday, 12 April instead of Tuesday, 10 April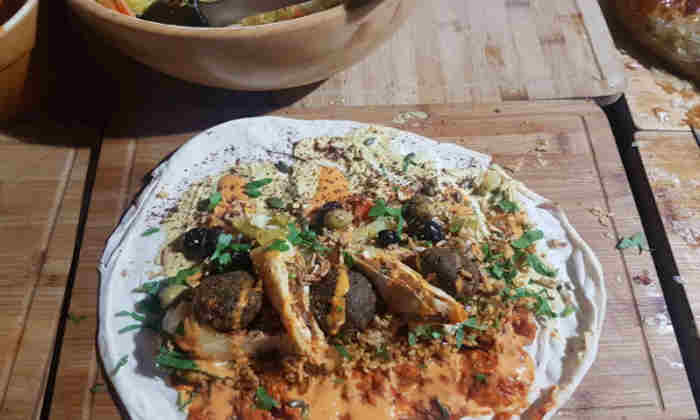 Due to a campus event, the market will switch days for one week only.  Make a date in your diaries to enjoy your street food favourites!
This week's trader spotlight - The Otto-Men
The Otto-Men are an established favourite at our market, serving up Middle Eastern and Mediterranean inspired cuisine to hungry customers. 
Nick from The Otto-Men says: "We are very well known at the University market for our mezze and insane wraps. We come with a consistently changing menu with lots of vegan and vegetarian options. Our insane wraps are huge wraps filled with many of our mezze options that we have on the stall that day. 
"We are also known for 'The Sexy Pie'. This is our vegan take on a Moroccan Pastille. It's fresh Armenian filo pastry filled with lots of individually spiced and seasoned vegetables, supergrains, fruits and seeds. Always a crowd pleaser!"
"We have a strong, regular customer base at the markets and we love to see familiar faces there. It's always busy, has a fantastic food offering and it's also a lot of fun to meet staff and students of many different backgrounds and ethnicities."
If you like the sound of what's on offer from The Otto-men or any of the other traders, come along and try some treats!
About Levenshulme Market
The chance to run regular weekly markets and a night market at our University marks further growth for Levenshulme Market, which was launched as a social enterprise in 2013 with a monthly market on the train station car park in Levenshulme. In 2014 the market started operating weekly on Saturdays and in 2015, was revealed as one of just three finalists for Best Food Market in the BBC's Food and Farming Awards. 
Follow them on Twitter or Facebook for all the latest updates.