Students help to win legal case for redundant workers
23 Mar 2018
A group of dismissed employees are celebrating after ten law students from Manchester helped to win an employment case on their behalf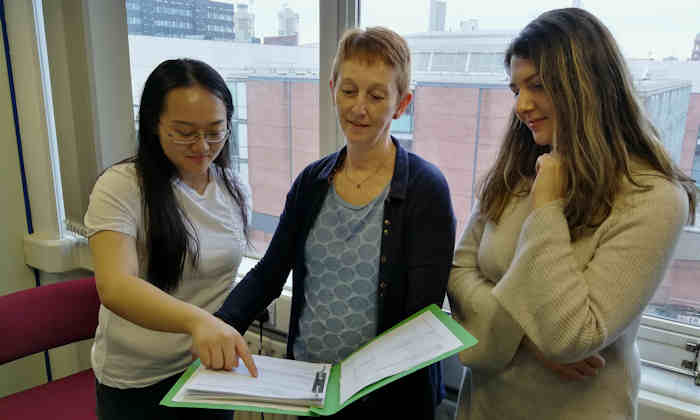 When Lancashire-based insurance business Imperial Consultants Ltd closed suddenly last August, its 40 plus employees were dismissed without receiving any warning, redundancy pay or outstanding holiday pay. None of the compulsory procedures to consult staff or take them through a fair dismissal process had been followed by the company.
Christine Peacock, the Solicitor/Manager of the University's Legal Advice Centre, acquired this case when two of the dismissed employees came to her employment law clinic at Bury Law Centre. As there is no Legal Aid available for this type of case and a private solicitor had been unhelpful, Christine decided to take it on with a group of ten students.
"Previously, our students have only provided advice in the form of a letter sent after a supervised interview," said Christine. "This situation provided a great opportunity to take on a case and provide representation for a group of workers, using it to work with students as part of their educational development."
The two initial clients were informed that the Legal Advice Centre would take on their case for no charge, provided they understood that they would work with supervised students as part of their development.  They happily agreed, and after contacting their former colleagues, another 19 agreed to take part.
The students liaised with the clients to obtain the information needed to lodge their claims, as well as checking the payments they were receiving from the Insolvency Service - many of these were incorrect, and were increased as a result. 
As it became clear that the clients could not then gain any more benefit by continuing with their claims for redundancy pay, unfair dismissal, notice pay and holiday pay (as the company was by then insolvent), the clients were advised that they could still win a protective award for the failure to consult in a collective redundancy situation. So the students worked to draft a witness statement, and prepared a bundle of documents in preparation for a hearing.
The former directors of the company did not contest the case, so the judge awarded the dismissed workers 90 days' gross pay (the maximum award permissible) without a hearing. In total, around £150,000 was won as a result of running this case with the involvement of our students.
"It is clear that completely inexperienced students have achieved a great deal for clients who would have otherwise had no-one to represent them and who would have been denied their legal entitlements," said Christine. "This illustrates the value of pro bono work, and the very real impact of the limits on access to justice for so many ordinary people."
Pictured: Legal Advice Centre Manager Christine Peacock (C) with 2nd year LLB student Sicen Wang (L) and Legal Advice Centre graduate Intern Andreea Iliuta (R).