Woolton Hall Tea Party
22 Mar 2018
Welcoming the local community into our halls of residence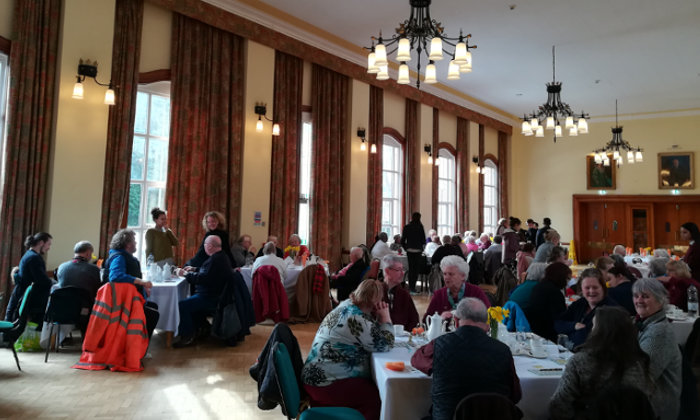 On 28 February 70 guests from the local community visited the University's Fallowfield campus for the Woolton Hall Tea Party. Fran Guratsky, the Residential Life Officer at Woolton Hall, the student committee and Kirsty Hutchison from the Student Development and Community Engagement Team organised an afternoon of activities which included afternoon tea, bingo, a raffle and musical performances by students.
The event aimed to encourage community cohesion between the student and residential communities in Fallowfield and to give students a chance to volunteer for the benefit of local elderly people who may enjoy additional opportunities to socialise. Many of the visitors who attended came as part of a group from nearby community centres, including Ladybarn Community Centre, Assist Withington and Barlow Moor Community Association. Guests enjoyed speaking to the volunteers, learning about the history of Woolton Hall and playing games – bingo was taken very seriously! The performances by the talented students were well received and included 'Happy Birthday' for one of the guests whose birthday was the following day.
Fiona Ashmore who works at Ladybarn Community Centre said "[the Tea Party] was a great event and a real treat for our older people." What is more, many of the volunteers have said they would like to volunteer with these groups on a more long-term basis. This will allow students to progress with completing the Manchester Leadership Award whilst they make a difference in the local community.
The event was made possible following a successful application by the organisers to the University Construction Community Fund, a fund that was established this year to support neighbourhood initiatives in areas closest to the University's construction sites.