Biotech entrepreneur Sir Chris Evans visits UMI3
20 Mar 2018
Sir Chris Evans and Ed Rayner from ARIX Bioscience met some of our academics during their visit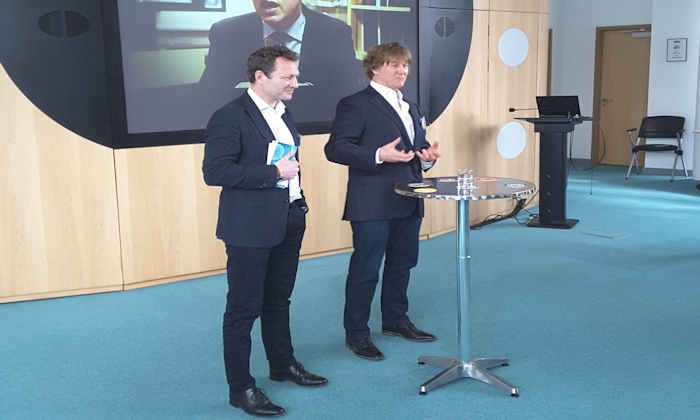 On Tuesday, 13 March, UMI3, our technology transfer company, welcomed Professor Sir Chris Evans and Ed Rayner, from ARIX Bioscience, to meet 25 leading bioscience academics in a new style informal seminar and networking session at the University's Innovation Centre on Grafton Street.
Sir Chris, a leading biotech serial entrepreneur, led the floatation of ARIX a year ago, since when a large number of substantial investments have been made. Sir Chris and Ed were very impressed with the quality of the research at the University and its potential for commercialisation and they are already following up on the event.
Clive Rowland, UMI3 CEO, commented: "Spinning out companies from university research is an exciting area of work, which can bring new sources of funding for research and development and has the potential for capital gains. Yet it can be a very challenging and time consuming endeavour. 
"Engaging with those entrepreneurs who have deep domain expertise, strong science and business networks, and who are experienced investors themselves, with continuing direct access to funding, is a critical part of the journey from the lab to the market-place. 
"We are delighted that Arix has made a commitment to join our entrepreneurial ecosystem to help us increase the scale and accelerate the pace of our spin-out activity."
Pictured: (L-R) Ed Rayner and Professor Sir Chris Evans from ARIX Bioscience