The President meets the next generation of scientists
15 Mar 2018
Nancy visits the British Science Week fair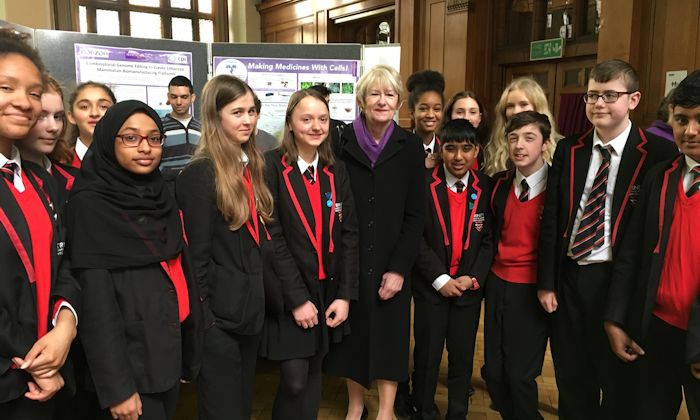 Our President and Vice-Chancellor Nancy Rothwell helped inspire some of the 1,000 young scientists who were welcomed onto campus for British Science Week.
Our events for the week includes a Science Fair that aims to inspire pupils to go to University and study STEM subjects in the future and  showcase courses and careers relating to science and engineering. 
The event, organised by the Student Recruitment and Widening Participation team, will attract over 900 pupils (aged between 11 and 14) from across Greater Manchester over four days. 
The students had the chance to participate in an hour-long interactive workshop led by a current PHD student, have a go at some fun researcher-led hands-on activities and visit 23 stands staffed by academics and students from across the University. 
Nancy had the opportunity to speak to some of the pupils from Trinity High school and West Hill School and discussed the workshops they had participated in.
She said: "I really enjoyed the Science Fair – there were some amazing activities on show – and it was wonderful to see all those young scientists clearly excited and inspired by what we were doing.
"Universities have a value beyond the economic and this sort of event encapsulates it. We are opening doors to the next generation of talent, whatever their background, so that they can carry the torch forward." 
Stephanie Lee, Head of Widening Participation and Outreach said: "Our annual Science Extravaganza event is an opportunity for our research staff and students to pass on the spark of inspiration to the next generation. As well as encouraging future scientists and researchers, the event is important for raising awareness of higher education amongst young people from families where there is little or no experience of attending university."
She addded "Being able to meet with staff and students in a fun environment helps to break down preconceptions so that the young people can see themselves studying at a university like Manchester in the future."  
British Science Week 
British Science Week is a 10 day national celebration of science, technology, engineering and maths (STEM) showcasing its relevance to our lives and inspiring the next generation to consider studying STEM related subjects in the future.
More information