International Women's Day at the University of Manchester
08 Mar 2018
The University celebrates International Women's Day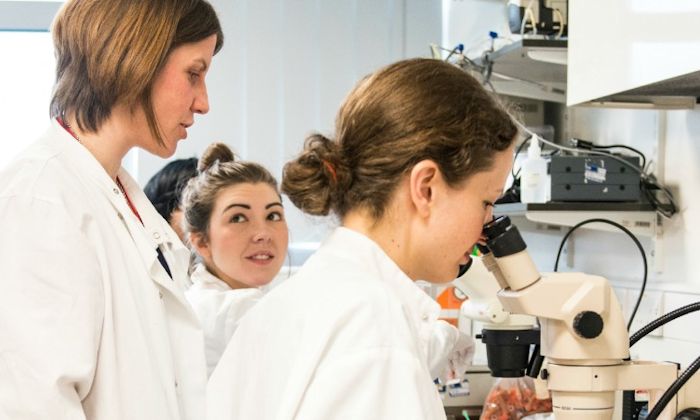 As part of International Women's Day staff and students are celebrating the contribution of women across the University with a range of inspiring talks and events.
Panel discussion 
The Dean, Professor Ian Greer, will open the event and Vice-President for Social Responsibility, Professor James Thompson will introduce the award winning British scientist and author, Angela Saini. Angela will be discussing gender stereotypes, conditioned perception and her recently published book 'Inferior - How Science Got Women Wrong – and the New Research That's Rewriting the Story'.
Following a networking lunch, Angela's talk will take place 1:00pm – 2:00pm in Lecture Theatre B, University Place. This will be followed by three parallel workshops on sexual harassment in the workplace, personal impact and resilience. 
12 noon-1:00pm: Registration and networking lunch
1:00pm-2:00pm: Guest Speaker - Angela Saini 
2:00pm-3:00pm Workshops (run in parallel)                
Women and the Media
'Women and the Media' panel discussion will streamed live on the University's Facebook event page.
The event will be hosted and chaired by the University's President and Vice-Chancellor Professor Dame Nancy Rothwell and she will be joined by:
Dorothy Byrne (BA Philosophy 1973), Head of News and Current Affairs at Channel 4
Holly Dewsbury (BA Language, Literacy and Communication 2009), Manager, EMEA UKI Agency Team, Facebook
Kirstie O'Mahony (BA Philosophy 2017), Co-ordinator of Student Media and Editor in Chief, The Mancunion
Join the conversation on social media
Get involved with the conversation on Twitter using the #IWDUoM hashtag.
#UoMWomen
#UoMWomen is a campaign across the University celebrating #Vote100 and #IWD18, follow the hashtag on Twitter for all the latest news.   
Wonder Women
We're also supporting Manchester's feminist festival Wonder Women. There are several events on throughout March, marking the final year of a three-year campaign of celebration leading up to the centenary of women winning the partial right to vote.
Wonder Women shines a light on some of the incredible, creative and campaigning women both from and working in Manchester today.