University athletes launch this year's Purple Wave
02 Mar 2018
The University has launched this year's Purple Wave with a bid to register as many runners as possible for the Simply Health Great Manchester Run on 20 May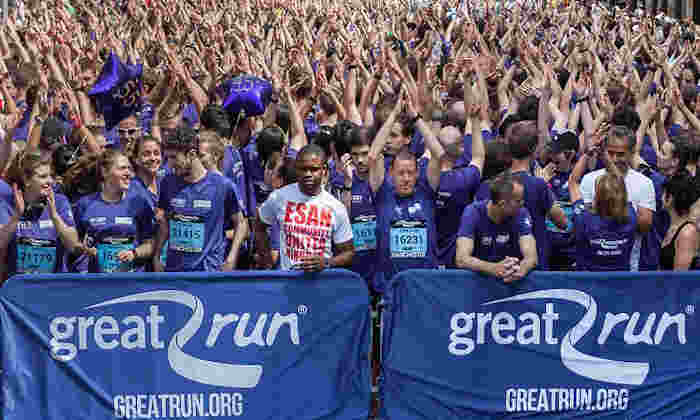 Members of the University of Manchester Student Union's Running Wild society gathered together in the Samuel Alexander building to celebrate the official launch of the registration process.
They were joined by Manchester student and triple jumper Naomi Ogbeta, and staff member Mike Addelman.
Naomi is a politics and quantitative methods student who beat off the best in the UK at the Spar British Athletics Indoor Championships this month.
Media Relations Officer Mike is running with a mechanical heart valve and has had three bouts of surgery in the past 14 months.
The internationally renowned 10k run will be staged for the 16th time, with the day also including a half marathon in the heart of the city.
The University will have its own start time, with a Purple Wave of runners wearing the purple technical running t-shirts they receive on registration.
Last year nearly 2500 University staff, students and alumni took part, forming their own purple wave.
Runners who agree to fundraise for the University's acclaimed Undergraduate Access Scholarship will be able to run for free. The scheme supports bright young people who come the poorest parts of the country.
University staff and alumni can also register for free when they commit to raising £100 for the scheme.
Head of Sport Vicky Ackerley said: "In just three years the Purple Wave has gone from a crazy idea to an established annual mass participation event for The University of Manchester community.
"We are currently the only organisation to have our very own starting wave, and hold the record for the largest entry.
"Whether a seasoned runner, or a complete beginner looking to improve your health and wellbeing, this event provides the opportunity to be part of something really special and raise the profile of our University."
She added: "It also provides the opportunity to raise money for good causes, and we have raised over £150,000 in the last two years.
"This year we are, in particular, supporting the University's Undergraduate Access Scholarship, which helps to support students who would not usually be encouraged to aspire to a University education."
Though Naomi Ogbeta, will be competing in a triple event competition on 20 May, she's a proud supporter of the project.
She said: "The Great Manchester Run is a brilliant event; anything which gets people out and exercising can only be a good thing.
"I urge all students, staff and alumni to register and get involved. You'll have a brilliant time!"
To find out more, visit: