Manchester celebrates #GivingTuesday
29 Nov 2017
Find out more about how the University gave more during #GivingTuesday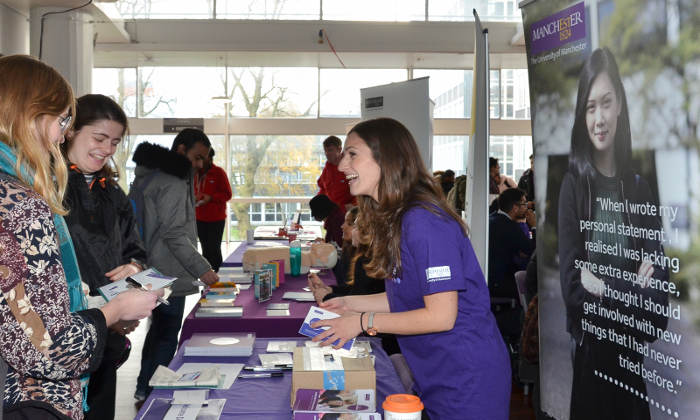 On 28 November the world celebrated #GivingTuesday, an international day to do 'good stuff', to recognise what is already being done and to encourage people to consider giving time, money or skills to support a worthwhile cause. Across the University's campuses there was a whole host of events and activities to mark #GivingTuesday.
The Making a Difference Fair showcased 18 different initiatives and organisations which highlighted the variety of ways that our staff and students can give. There was something for everyone with representatives from the Development and Fundraising team, School Governors Initiative, Green Impact, Robogals, blood and organ donation and Kaya Responsible Travel to name just a few. Many attendees have committed to giving – here is a snapshot:
11 signed up to volunteer with Barnabus
18 registered to be part of the Physics Outreach (UMPO) group
11 signed up with the Veg Box People, with many more interested in getting local organic produce from them
8 signed up to be a peer mentor of PASS leader
19 pledged to be an Antibiotic Guardian
45 have registered to receive updates from the University's Environmental Sustainability team
6 signed up to be mentors with ReachOut
14 signed up to work with Student Action
26 registered to be a blood donor (including those who registered in the Stopford Building)
The Swap Shop was also a great success as we donated nine bags of leftover items to Barnabus, a local homeless charity and encouraged attendees to recycle. Between the Swap Shop and the cake sale, we raised £170 for Lemn Sissay's Care Leavers Christmas Dinner.
27 people learnt how to save a life with HeartStart CPR training sessions taking place on campus and in our Halls of Residence. Attendees said they benefited from the training and now felt a lot more confident and prepared for responding in an emergency situation. These sessions continue the legacy of the University's successful World Record attempt at the most people trained in CPR at the same time a few years ago.
We also held a mini health-related giving fair where even more people signed up to become Antibiotic Guardians and were trained up in CPR and basic life support skills. Staff and students were also able to sign up for blood and organ donation and find out what it takes to become a platelet donor as part of the NHS's 'Are you Gold Blooded?' campaign.
Follow #UoMGivingTuesday for more about how are staff and students give and visit our website to find out about the University's commitment to Social Responsibility.