University Medal of Honour for Professor Nic Jones
28 Nov 2017
University presents world-leading cancer researcher with its highest medal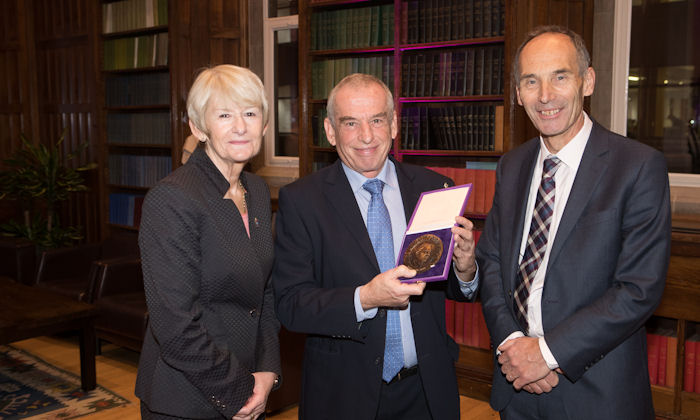 The University has honoured Professor Nic Jones, a world-leading cancer researcher, with its highest medal, the Medal of Honour.
Following the receipt of his PhD from Edinburgh University, Nic pursued his research career in the USA initially at the University of Connecticut Health Centre and subsequently at Purdue University.
After 12 years he returned to the UK and joined the ICRF laboratories in London as a Principal Scientist where he continued his research on DNA Tumour Viruses and the mechanisms they employ to transform normal cells into cancer cells. 
In 1999, he moved to Manchester to become Director of the Paterson Institute (now the Manchester Institute) which is core funded by Cancer Research UK.
He remained in that role until 2011 when he became the CRUK Chief Scientist with the responsibility of overseeing the scientific strategy of the organization.
In 2006 he also became the inaugural Director of the Manchester Cancer Research Centre, a partnership between The University of Manchester, the Christie and CRUK and oversaw its development into one of the foremost cancer centres in Europe. He stepped down from this role in August of this year.
Nic is continuing to work closely with the University advising on major strategic initiatives and research awards.