Manchester University Music Society Festive Sing Along Relaxed Performance
13 Nov 2017
On Friday 15 December, 1.10pm, at the Martin Harris Centre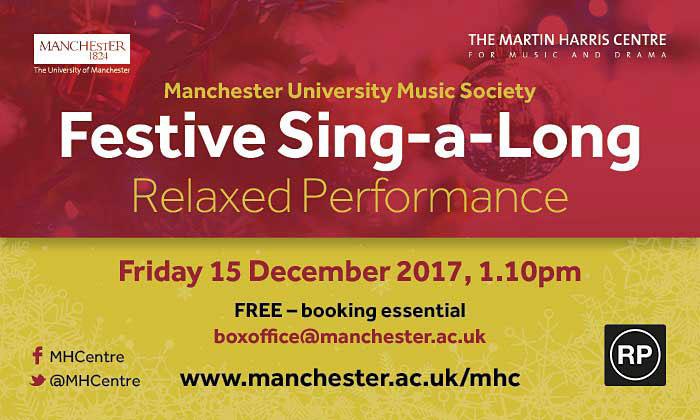 Get yourself in the festive spirit with a free and extremely relaxed event full of carols and festive participation, with an informal atmosphere unlike a traditional concert.
Manchester University Music Society hosts this special concert, open to everybody in a relaxed setting.
The event is intended specifically to be sensitive to and accepting of audience members who may benefit from a more relaxed environment, including (but not limited to) those with autistic spectrum conditions, anyone with a learning disability or a sensory and communication disorder.
This performance is for anyone. Parents are welcome to bring small children, families should feel welcome to bring members living with dementia, and we encourage anyone who wishes to discuss their requirements further to contact us.
Audience members will have the chance to meet the performers and try some musical instruments themselves.
FREE – booking essential
To book please email boxoffice@manchester.ac.uk or telephone 0161 306 1669
Group bookings are welcome.
More information: