Quatuor Danel Beethoven Cycle - this weekend!
28 Nov 2017
Join our much-loved resident quartet for an exciting musical journey.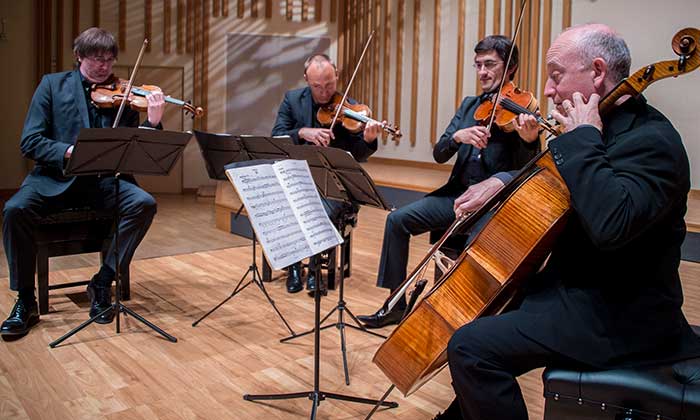 The Quatuor Danel Beethoven Cycle takes place this weekend - from Thursday 30 November to Sunday 3 December over five concerts.
Beethoven's 16 string quartets (or 17, if you count the Grosse Fuge as an independent work) are universally recognised as one of the cornerstones of western civilisation, and the progression through them represents one of the great musical journeys of all time. These works reveal Beethoven at his most daring, his most intimate and his most wickedly humorous. They represent the ultimate challenge to the intellectual and musical powers of their performers.
If you want to experience what this will feel like in the hands of the Quatuor Danel, then come and join us.
There is still time to book!
The cycle will take place over five concerts:
To book:
Tickets for individual concerts are priced at £14 / £9 / £3 and are available from:
Martin Harris Centre Box Office 0161 275 8951 (12.30-2.30pm weekdays) or
Online at Quaytickets
We also offer a Beethoven Cycle ticket, offering excellent value for money and reserved seating at all evening and afternoon concerts, priced at £25 / £20. 
Further Information: