Welcome to our Business and Administration apprentices
09 Oct 2017
Eight new apprentices join the Faculty of Science and Engineering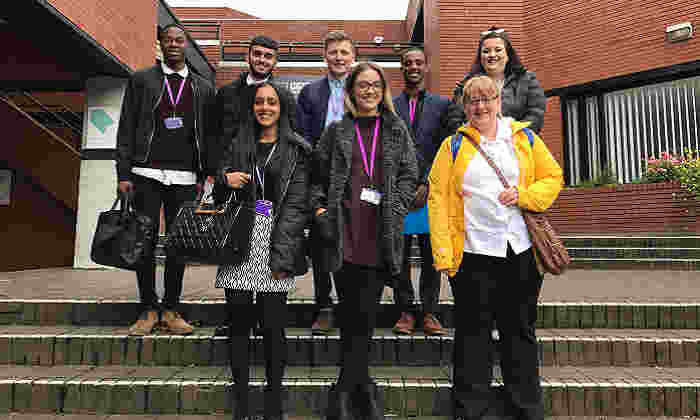 This year marks the fourth annual cohort of Business & Administration apprentices in the Faculty of Science and Engineering. This year's intake comprises eight apprentices with seven of those based in Schools, including EEE who is taking their first apprentice, and one in BP-ICAM.  In another first this year, there is an equal number of female and male apprentices whose ages range from 16 to 24. 
Emily Haughton, an apprentice in 2016-17 who is now working in the School of Social Sciences, spoke about how grateful she was for the opportunities her apprenticeship presented. "Not having worked in business administration before, taking on this apprenticeship was a great starting point.  It was a fantastic way to learn on the job, picking up new skills, learning how to do things I'd never done before.  And developing these skills was what enabled me to get a job at the university.  I don't think I'd have got a 9-5 job if it wasn't for this programme."
Dagme Tesfaye from the 2017/18 cohort added, "Going straight from school into employment as an apprentice, it's a different world, and it's allowed me to see what a great opportunity this is, and recognise that I'd be foolish not to seize it.  The whole team I work with has been really brilliant, everyone is so helpful.  I really like coming to work, knowing that something new will be coming up, new skills to learn."
Adrian Parker is the lead for FSE's Business Administration Apprentice programme and is assisted by Lynn Howarth, HoSPA in Computer Science. Speaking about the programme, Adrian commented, "I am a strong believer in this faculty programme which widens access to employment, creating opportunities for a broad cross section of young people who might otherwise never be given the chance to work at the university.  The vast majority of our former apprentices have gone on to secure permanent posts, providing them with an exciting career path in the sector while supporting the development of a skilled and diverse workforce.  I'm delighted at the quality of this year's cohort and know that they will work hard for the schools and other teams in which they are placed, while advancing their own careers."
2017/18 Apprentices
Back row (left to right)
Torrell Ugowe - Teaching and Learning in EEE
Daniel Sah - Student Experience and Teaching and Learning in MACE
Matthew Regan - Business Admin in Physics & Astronomy
Dagme Tesfaye - Administrative Assistant in BP-ICAM
Nicole Langford - Academic Support in Computer Science
Front row (left to right)
Tejal Patel - Admissions Office in Maths
Jessica Taylor - Administrative Support in Materials 
Abbie Hickling - Teaching and Learning in Materials