Danielle George presents BBC's relaunched Tomorrow's World
26 Jul 2017
Our Vice Dean of Teaching, Learning and Students explores the rise of the robots as part of a series to connect audiences with the brightest minds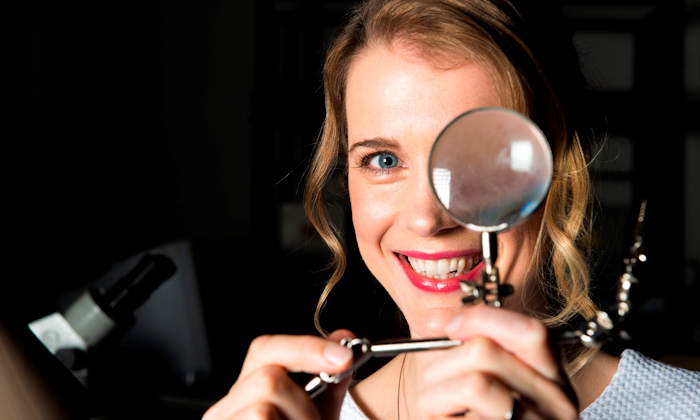 Tonight our own Professor Danielle George fronts BBC's Tomorrow's World, the relaunched science show fondly remembered by those of us who grew up in the 1970s.
The BBC is running a year-long season of science and technology programming under the banner of Tomorrow's World, which will take science out of the lab and into peoples' homes and seek to address how science is changing peoples' lives, reshaping the world, and rewriting the future of healthcare. The aim is to make science personal with the biggest scientific partnership the BBC has ever convened to answer the big questions relevant to everyone.
In 'Hyper Evolution: Rise of the Robots', electronics engineer and robot supporter Danielle and Dr Ben Garrod, an evolutionary biologist from Anglia Ruskin University and robo-sceptic, uncover whether the rise of the robots will enhance the progress of humanity or ultimately threaten the survival of the human race.
With extraordinary access to the world's leading robot-makers, they meet the trailblazing machines who pioneered key evolutionary leaps for robot-kind, and their most advanced descendants - to uncover just how far we've really come.
Ben is unashamedly unnerved by the tremendous rate that robots are evolving, whilst Danielle is welcoming them with open arms. To make sense of Ben's fears and Danielle's optimism, they set out to investigate the evolution of robots - treating them as if they are an emerging 'species'.
Their part of the series explores questions over what happens when robots learn to think for themselves, and what that will mean for the future of humankind.
Tony Hall, BBC Director-General, says: "The campaign will connect audiences with the brightest minds and institutions in science and technology, producing more than 40 hours of television, a range of programmes across our radio networks, a series of podcasts, and digital offerings, made in collaboration with partners, including the Science Museum Group, Wellcome, The Open University and the Royal Society."
To watch
You can watch Hyper Evolution: Rise of the Robots on BBC4 at 9pm tonight (Wednesday, 26 July).
Or you can view it on BBC iPlayer at: