Alliance Manchester Business School celebrate redevelopment progress
19 Jul 2017
Guests gathered on site to celebrate a significant step forward with a topping out ceremony on Tuesday, 18 July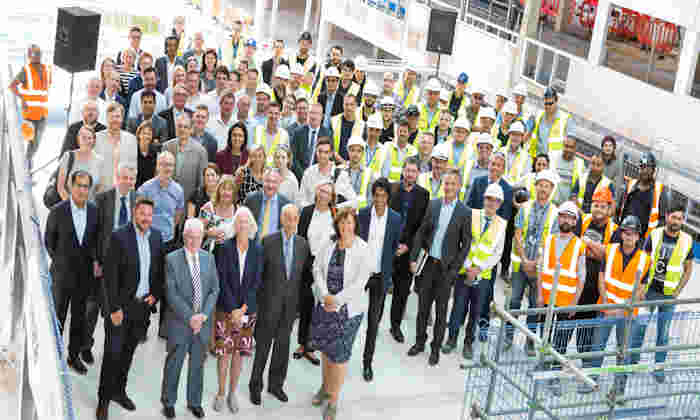 Lord Alliance, whose landmark donation to the School is one of the largest ever made to a UK business school, attended along with business school donors, advisory board members and senior figures from property developer Bruntwood and site contractor Mace Construction.
The completion of a flagship feature staircase at the Booth Street West building is the latest milestone for the Alliance MBS redevelopment. 
Professor Fiona Devine, Head of Alliance Manchester Business School, said: "This is another significant step forward in Alliance Manchester Business School's redevelopment, which ensures that the School remains at the forefront of business and management research and education for years to come."
The redevelopment project is part of The University of Manchester's ten-year Campus Masterplan, which includes a new hotel, an enhanced Executive Education Centre, and an improved retail and food offering managed by Bruntwood.
Chris Roberts, Chief Development Officer for Bruntwood said: "The improvements being made to Alliance Manchester Business School's facilities and the surrounding area are nothing short of transformational for Corridor Manchester. Students will benefit from incredible learning space, while the retail and food offering we're developing with The University of Manchester will also enhance the lives of those living and working nearby, attracting some fantastic operators and providing a real wow factor for visitors to the city."
Ian Goddard, project director at Mace Construction, said: "We're incredibly proud of the work that we're completing on site for Bruntwood and the University at Alliance Manchester Business School."
As part of the University of Manchester's Living Campus initiative, which maintains the best possible environmental standards for the University's growing structural footprint, a ceremonial tree was also planted during Tuesday's celebrations.
See how the work is coming along in this time-lapse video.