President visits Student Lifecycle Project
18 Jul 2017
Nancy sees the start of a large, very exciting transition – and we can all get involved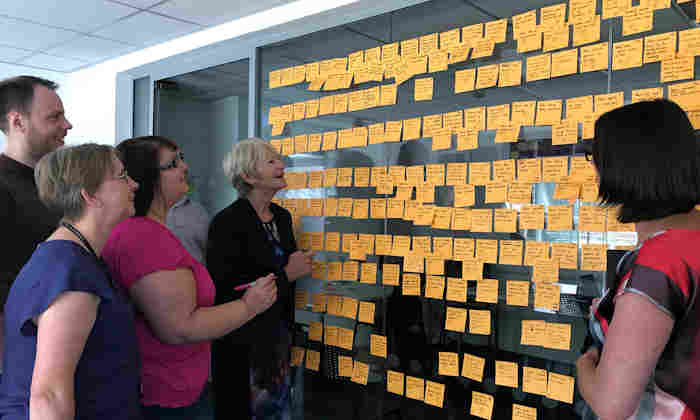 The SLP has been set up to improve the experience of our students and staff by providing high quality services that are fit for purpose, flexible, accessible, responsive and cost-effective.
A major change project, backed by £25m funding, it is reviewing our processes around the way we engage with students from the moment they first contact us to when they graduate, irrelevant of their mode of study.
The project will provide upgraded core management and administrative systems, new more simplified and standardised business processes and technology architecture that will support the activities of The University and help us to achieve our vision for The University of Manchester to be one of the leading universities in the world by 2020.
Nancy was taken on a tour of the team's headquarters, on London Road, which revealed walls lined with Post It notes listing steps along the students' journey, flyers detailing the personas of everyone – staff and students – who will be using the new processes and systems and generally the huge amount of work already taking place.
"It was great to see how the SLP team are already hard at work, looking at every level and facet of our student experience," she said. 
"This is only the start of the process and a large, very exciting transition. I was delighted to see so many colleagues from across the University working together using an agile approach, which is new for us.  It is clear that for the Project to be the success we want it to be, it is crucial that the strong partnership between the academic community, PSS colleagues and our students continues, to ensure our student experience is second to none."
Project aims and timetable
SLP is using the concept and principles of 'Agile' project methodology and project teams; running technology-enabled projects enables maximum flexibility and user-engagement. It's a very different way of working and very different to previous University initiatives.
The SLP will review all business processes and systems used by the University to support our students and will be completed by September 2019.
From July to December 2017, we will complete the design and discovery phase of the SLP – the team will welcome colleagues from across campus to take part in the work stream sprints and design phases. User testing will see members of the wider University community attending sessions to review and assess the first iterations of new processes and systems that are being developed.
Take part
To take part in this project, you can:
More resources
Full details of the journey so far can be found in the background section of our SLP website:
Latest news from the project can be found at:
FAQs can be found at: