Inspiring students achieve their graduation dreams
13 Jul 2017
For all our students, graduating is a testament to their hard work - but for some, it's a particularly inspiring achievement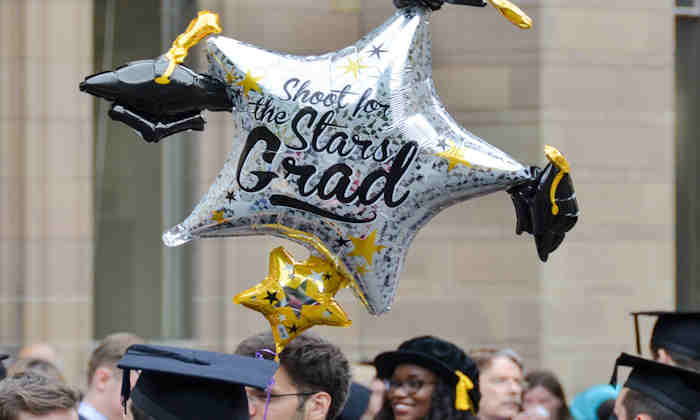 A mature student who has stammered since the age of three graduates today (13 July) has achieved his goal of qualifying as a Speech and Language Therapist with a first-class honours.
Richard Stephens, 37, was treated by a speech and language therapist from the age of 7, says therapy repeatedly failed to deal with the deep-seated psychological and social problems he was going through.
In his early thirties, Richard attended the British Stammering Association's Manchester support group, meet many other people who stammered, one being a speech and language therapist. With this support, he gained confidence in his speech and formed a better relationship with his stammer. 
His volunteer work at Camp SAY - a camp for children who stammer - in America over the past three summers, has been a revelation, as has his friendship with the world-renowned stammering researcher Professor Edward Conture from the United States.
But now he is preparing to commence an MSc in neuroimaging and neuroscience at Manchester - the first Speech and Language Therapy graduate ever to do so.
And another student has overcome serious illness to qualify as a teacher of the deaf, graduating today (13 July).
Former primary school teacher Kim Shepherd had her studies interrupted in 2014 when doctors discovered a brain tumour needing urgent surgery.
Thirty years after her first degree, she had started the part-time PGDip in Deaf Education in 2013, thinking she would be qualified by June 2015.
Though the tumour was benign, Kim was seriously ill for over a year, eventually returning to the course in September 2015.
She said: "Discovering the tumour was a tremendous blow, but my doctors reassured me it could be removed and I would make a complete recovery, probably within six to eight weeks," she said.
"My course leaders were great: rather than having to give up, I was reassured that I could take an 'interruption' and return when I was better."
A high-kicking pharmacy student is to graduate today (13 July) after successfully juggling academic excellence with international success as a Taekwondo athlete. 
Second Dan Black Belt Sanjida Faiza, from Wilmslow, was bronze medallist at this year's prestigious International Brussels Cup where 400 top fighters compete. 
Her diminutive 4 ft 11 frame hasn't held her back from achieving international success. 
Sanjida, who hopes to follow in the footsteps of her hero Jade Jones by competing in the 2020 Olympics, was also Mpharm Student of the year in 2016. 
The athlete has also found time to be a National Bronze medallist in 2014, 2015 and 2016, coach budding Taekwondo athletes and attend training in Spain with members of the French, Spanish and GB national teams. 
She has been a Taekwondo athlete since the age of ten and says it's the core values of taekwondo such as the discipline, respect and perseverance in the sport which attract her.