WATCH: University honours Skyscanner duo
14 Jul 2017
Travel search site founders Gareth Williams and Bonamy Grimes receive Outstanding Alumni Awards - and advise our "optimistic and ambitious" graduands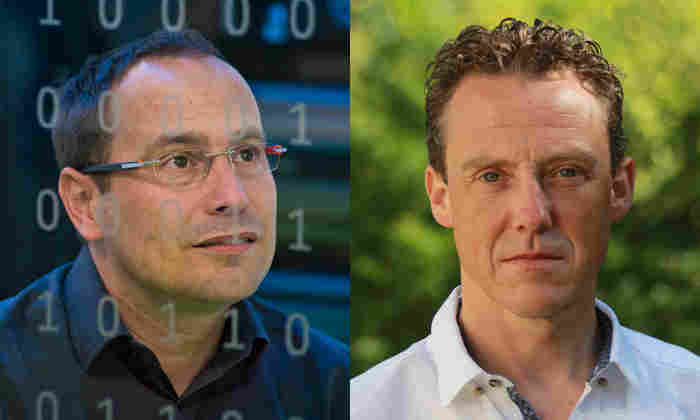 This year's joint winners of the University of Manchester's Outstanding Alumni award are Gareth Williams and Bonamy Grimes, co-founders of Skyscanner, a leading travel search site which provides instant online comparisons for flights, hotels and car hire.
Outstanding Alumni Awards are presented to alumni who have achieved distinction in their profession, through exemplary service to the University or the wider community or outstanding service of a personal or humanitarian nature.
Bonamy had some good advice for our "optimistic and ambitious" graduands:
Gareth Williams co-founded Skyscanner in 2001. Since then, the business has grown into one of the world's leading travel websites.
Gareth studied mathematics and computing here at the University before working as a contractor for financial institutions and retail companies, including Pygmalion, Cantor Fitzgerald, Nations Bank, and Marks and Spencer.
A keen skier – he was England and Wales Universities Champion and received a half-blue in skiing while at the University – it was Gareth's frustration with finding cheap flights to visit his brother in the Alps that led him and fellow computer scientists Bonamy Grimes and Barry Smith, to create Skyscanner.
The business initially grew by word of mouth; now, an average of 60 million people visit the site every month. As CEO, Gareth has helped make Skyscanner one of the top digital travel companies in the world.
Skyscanner's mobile apps have been downloaded more than 60 million times. The company employs more than 800 staff in ten global offices and, in 2016, it was sold to Ctrip – China's biggest online travel company – for US$1.7bn.
In his spare time, Gareth enjoys playing chess, as well as indulging his love of literature and the arts, particularly sculpture and drawing. He is renowned among his colleagues for his incessant drawing during work meetings.
Born in London and raised in West Wales, Bonamy Grimes first met fellow Skyscanner founder Gareth Williams within hours of arriving at the University in 1989 to study computer science.
The pair were close friends throughout their degrees, not only studying many of the same modules, but also sharing the same accommodation, first in Oak House and later in a shared house.
An industrial insurance agency provided Bonamy's first job after graduation. He went on to work as a consultant with Xansa PLC and spent seven years working as a contractor for Marks and Spencer. He left Marks and Spencer in 2003 to focus his energies full-time on Skyscanner.
Bonamy's technical expertise shone through. He set up many of the functions in the rapidly-growing business, from operational scaling through to digital marketing, data analytics, product management, and engineering. 
Since stepping down from day-to-day involvement with Skyscanner, Bonamy has explored several projects involving his passions of cycling and motor racing, as well as mentoring several UK-based start-ups. He is also involved in a range of charity projects, including the 1moreChild orphanage in Jinja, Uganda, and has recently accepted a position on the advisory board of the Alzheimer's Society.